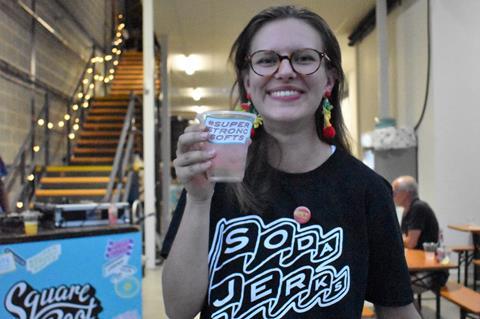 Name: Silvija Pukenaite
Age: 25
Job title: Customer experience officer
Company & location: Square Root, Walthamstow
Education: Tower Hamlets College – BTEC Art & Design, London Metropolitan University – Foundation Art & Design
Why did you decide to go for a career in food? It wasn't a clear decision that I came to in some vision earlier in life, as it's not something that's widely spoken about or encouraged as a career in school – it just sort of happens. Like many art students, I needed a part-time job that fitted in with my availability and so that's when it started. My first job was while I was in college, when I worked in various markets around London selling cookies. That's when I fell in love with the craft that is making food and meeting great people.
That type of exchange has been in my heart from a very young age as my grandparents are beekeepers, and I used to spend my summers helping my grandmother selling her honey pots in markets. I actually used to dry up wildflowers and herbs, then sell them as a spice for tea for my own pocket money – I was quite popular with local grandmas to say the least!
It's when I worked in a cocktail bar and realised how much I liked combining different flavours together and making a great presentation that I decided to stick with the industry. There was just so much to learn and it was very exciting! That's it for me really, the hidden key: combining flavours and connecting with the customers that respond to those products. Opening discourses around new combinations of simple ingredients, it is an art form!
Explain your job to us in a sentence (or two): My highest priority is to look after our customers. That means taking phone enquiries, helping with whatever's needed, processing orders and relaying that information to our warehouse and logistics teams.
What does a typical day look like for you? Even though my role is highly admin-based, every day is different. It can be from answering emails to making staff lunch (when it's my turn), to working in festivals!
"I am really passionate about sustainability and local produce, something that we're already implementing"
Tell us about how you went about applying for your job. My best friend was working for Square Root at the time and I was always hearing about it. One day they needed a hand with production – I think there was something like two tonnes of peeled lemons that needed squeezing, as they were a waste product from making Limoncello (which only requires the skins). So no real application or stages for that, I was good at squeezing lemons, that was the application in the beginning. I soon started working full time and had a chance to be a part of almost every 'making to packaging' process on the line. The job did grow with the company, so after around nine months there was an application process for a new role in the office. Everything happened naturally.
What's the best part about working for a food company? It's the people that make it for me. This industry is so alive and bustling with events – no day is the same. I have met some truly amazing people whose drive and knowledge is inspiring. Well, and also non-stop fizzy pop!
And what's the biggest misconception people have about working in food & drink? That you have to work unsocial hours and can't get a work/life balance. It's all in the planning!
What advice would you give to other young people looking to get into the food & drink industry? Don't be afraid to start from the bottom. Everything is a long process for most of us, experience is invaluable.
What's your ultimate career dream? I'm not sure yet, ask me in 10 years. I am really passionate about sustainability and local produce however, something that we're already implementing here at Square Root.