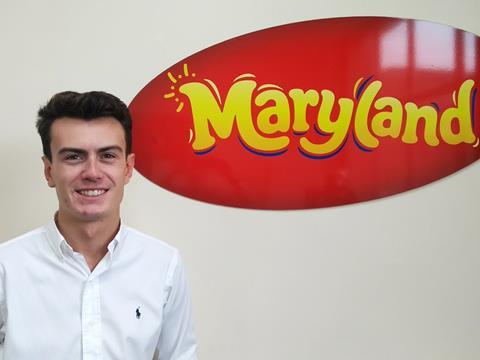 Name: Tom Williams
Age: 22
Job title: procurement assistant
Company: Burtons Biscuits Company, Moreton
Education: University of Liverpool. Business Studies, BA Hons 1st Class
What made you decide to go for a career in food?
After leaving university I was searching for a role and took a temporary job to test out the food industry. Three months later I'm glad I did! Working for a leading biscuit manufacturer like Burtons Biscuits provides a fast paced working environment and a wide range of opportunities.
Explain your job to us in a sentence (or two):
Procurement in Burtons is responsible for buying everything we need to make our biscuits. Covering ingredients such as the jam which goes into our Jammie Dodgers, commodities such as the cocoa used in our choc chips and indirects - everything from the catering at our factories to forklift trucks
What does a typical day look like for you?
Skills in Excel and SAP are a necessity
Every day is different and that's the best part of the job! I can go from assisting on planning how much butter we should purchase for our shortbread, to working on liquid nitrogen contracts for our production. Skills in Excel and SAP are a necessity. I use both programs daily when entering new contracts, checking stock levels or forecasting volumes for the year to come. I've recently finished working on our sugar tender, which was very interesting and I enjoyed gathering the data and working out the best value combination for our 2018 supply.
Tell us about how you went about applying for your job. What was the process like?
An online application followed by an interview. It began with a run through of my CV, why I wanted to join the business and why I was right for the role. The 'where do you think you need to develop?' is always tough for me. However, it demonstrates the areas which you can work on to improve as part of getting the role.
What's the best part about working for a food company?
For me it's the people. Burtons is an organisation made up of highly dedicated people who are passionate about the company and its products. It's also good to know I'm assisting in ordering the ingredients that go into iconic brands such as Maryland Cookies or Jammie Dodger's. Getting to try the latest biscuit innovations before they hit the market is also a bonus!
And what's the biggest misconception people have about working in food & drink?
That you require previous experience of working in food & drink. Bringing a willingness to learn and interest in developing your knowledge of the industry will help you to go far. For example, I never thought I would have come across the particle analysis for sugar as part of my role.
What advice would you give to other young people looking to get into the food & drink industry?
It's important to follow the latest happenings in the market, and I can recommend a magazine for the latest news on food and drink!
Start by taking an interest in the commodity markets. These are the key cost drivers for any food & drink business. You can't produce biscuits without wheat, just as you can't produce cars without steel. It's important to follow the latest happenings in the market, and I can recommend a magazine for the latest news on food and drink!
What's your ultimate career dream?
To be a leader at the forefront of the company. I would also like to travel internationally as part of my work. Designing a graduate scheme for Burtons Biscuits is also something I would like to do in the future, by building in elements of what I've learnt and what I think would be useful for a newcomer to both the industry and the business.