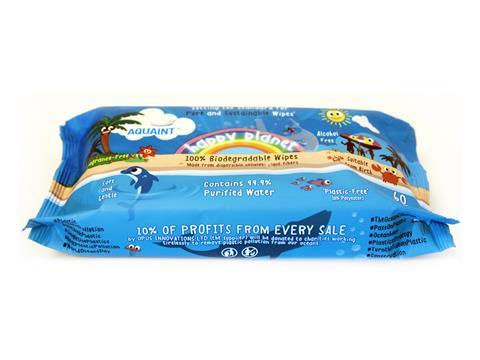 PET bottles, cotton buds, coffee cups and plastic straws have all been subjected to widespread government, media and consumer pressure over the environmental damage single-use plastic is doing to the planet. But no one seems to have targeted wet wipes. Until now.
An entrepreneur who has developed a flushable, biodegradable and 99.9% purified water wet wipe, is calling for new labelling rules to highlight the almost universal use of plastic in the £12.5bn global wet wipe category.
"Most consumers are simply unaware that wet wipes are generally made of polyester and break down into micro-plastics, making them an eco-hazard, as well as blocking sewers," said Bola Lafe, managing director of life science brand Opus Innovations.
Lafe developed his environmentally friendly version using biodegradable cellulose plant fibres. Packs are manufactured in China by a specialist wipes company as Lafe was unable to find a manufacturer in the UK who could meet the specifications.
"I wanted the wipes to pass international 'flushability' tests, as many consumers still flush wipes even though they are advised not to," said Lafe. "In addition, I wanted my wipes to be as pure as possible with no alcohol or fragrances, and to consist of 99.9% purified water."
Aquaint Happy Planet wipes will be available from the end of August (rsp: £2.25 per pack of 60). Lafe is currently in discussion with several major retailers including Tesco, Waitrose and Ocado ahead of the product launch next month, and has sufficient capacity to produce 100,000 packs a day.
Having created the wipes, the next step for Aquaint will be to increase awareness of the prevalence of plastic in wet wipes, said Lafe.
On the 16th July he launched an e-petition on parliament's official site to mandate that wet wipe packs should clearly show if the material contains plastic, as under current labelling laws only the ingredients added to the wipes have to be identified.
He also promised to donate 10% of profits from each pack of Happy Planet wipes sold to charities working to remove plastic marine litter from the sea.