Last year, the Easter bunny was a bit tight-fisted. Brits spent 17% less on Easter weekend than they did pre-pandemic and that figure is expected to drop again this year. In fact, according to Finder.com's Easter spending statistics, the average Brit will spend £25 on Easter this year, £3 less than they did 2020 and a £5 decrease on their 2019 spend.
But that doesn't mean brands haven't been dreaming up decadent new treats to tempt Bugs into being a little more generous. From designer cakes to golden mini eggs, here are this year's poshest Easter launches
Fiasconaro x Dolce & Gabbana Colomba Gift Tin
£44.99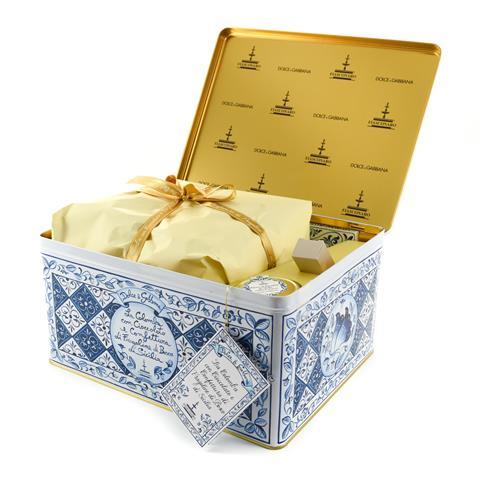 Being better known for dresses and handbags hasn't stopped fashion house Dolce & Gabbana from getting involved in a bit of cake. Of course, this is no ordinary cake – the sourdough colomba is a traditional Italian Easter treat which is made in a similar way to panettone. This gifting tin version is made with chocolate and wild strawberry jam and comes with a jar of Sicilian chocolate spread to slather on each slice.
Rococo Chocolate Orange Milk Chocolate Easter Egg
£35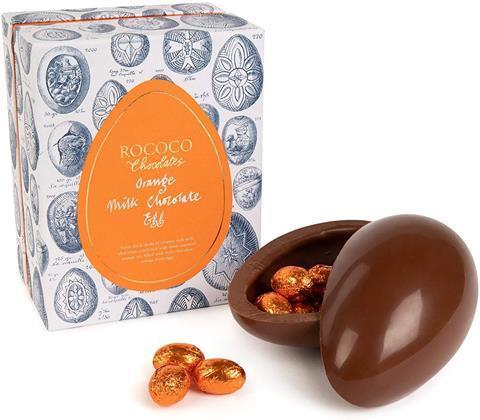 Jaw-tremblingly thick, this chocolate orange egg is a "highly anticipated" addition to the range, says luxury London chocolatier Rococo. It comes with mini chocolate foil-wrapped eggs and is wrapped up inside a decorated gift box. It's available to order on Amazon.
Meg Rivers Traditional Simnel Cake
£30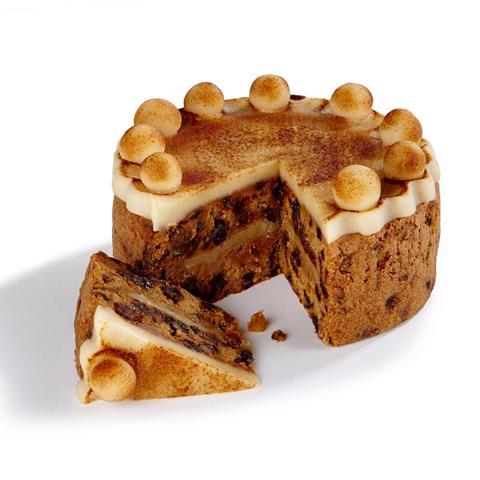 This artisinal cake is baked in small batches in a Meg Rivers' bakery in the Cotswolds, which gives each slice an "authentic, home-baked taste". It's flavoured with cinnamon and nutmeg, baked with a later of marzipan in its centre, and finished with toasted marzipan. It's available from Ocado.
Prestat Marc de Champagne Truffle Easter Egg
£17.50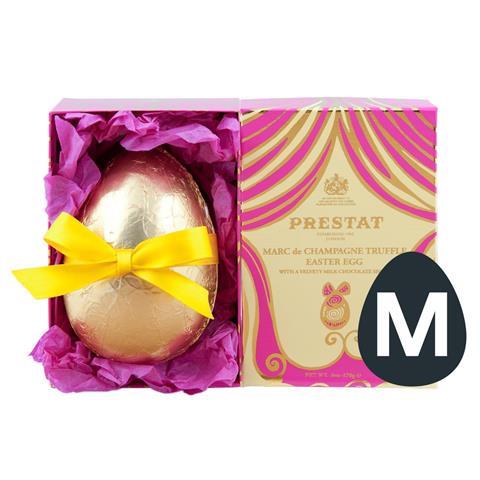 The Easter bunny is hopping and the champagne is popping. Prestat's Marc de Champagne Truffle egg is made with "velvety" single-origin milk chocolate and is stuffed with Marc de Champagne truffles. It's available from Ocado.
Pierre Marcolini Easter Cake
£25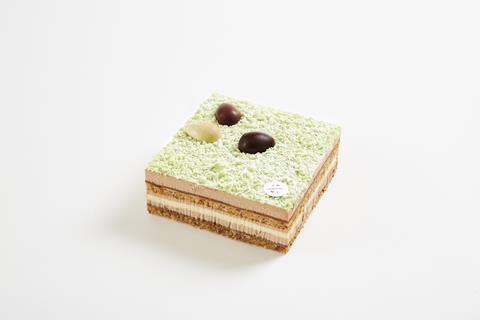 The newest launch from haute-chocolaterie Pierre Marcolini, this Easter cake is inspired by an enchanted garden. It's made up of milk chocolate sabayon, vanilla crème brulée and a caramelised hazelnut croustillant, topped with milk, white and dark chocolate praline eggs.
Fortnum & Mason Sailboat Easter Egg
£30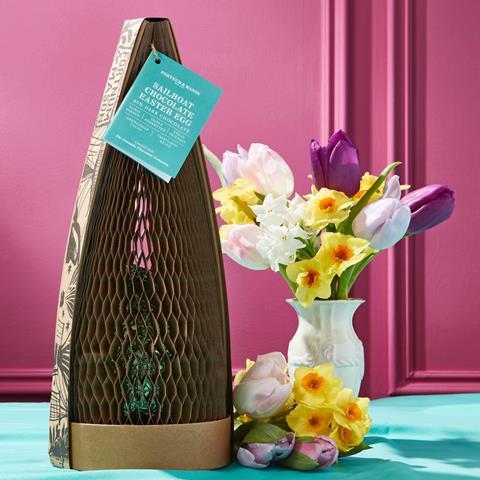 A sustainable take on luxury, Fortnum & Mason's new dark chocolate creation is made with cocoa beans from a small co-operative of organic farmers, the chocolate is created in a solar-powered factory and it's packaged in 100% recyclable packaging. The canou shape is a tribute to the engineless boat the cocoa beans are transported on in Grenada.
Keat's London Golden Mini Eggs
£9.99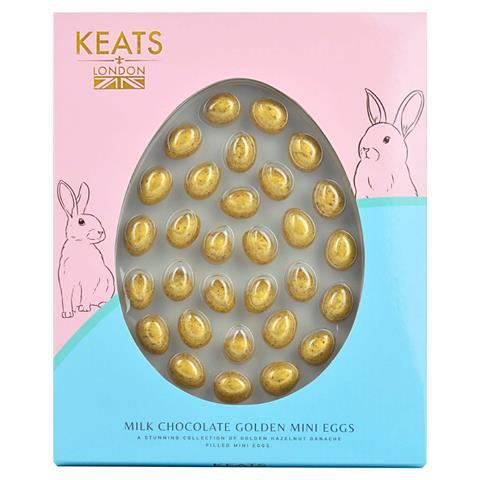 A bit posher than your average grab bag, these mini eggs are made with milk chocolate and hazelnut ganache, coated in a golden lustre. They're available on Ocado.
Jack & Beyond Easter Macarons
£25/12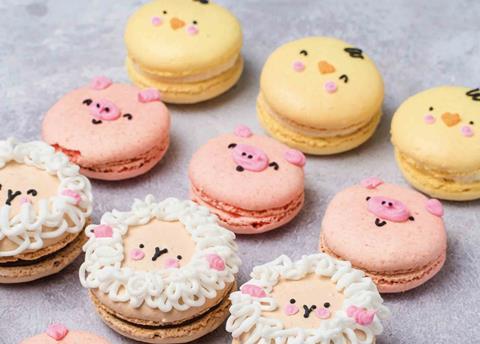 Nothing says spring quite like the welcome appearance of baby farm animals. These sweet macarons from London bakery Jack & Beyond take the form of chicks, piglets and lambs in chocolate, salted caramel, raspberry and lemon & elderflower flavours. They can be ordered online and delivered nationwide or picked up in the Fulham shop.
Cutter & Squidge Filled Easter Eggs
£19.99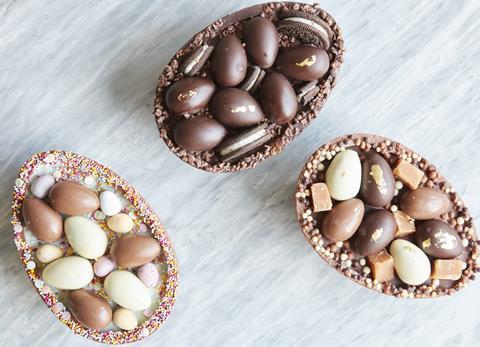 Decadent doesn't cover it. These handmade half-eggs from Cutter & Squidge are stuffed to the brim with sweet treats and miniature chocolate eggs. Funfetti (left) is filled with dulce de leche caramel sauce, chocolate crumb and white chocolate ganache topped with sprinkles, popping candy and mini eggs. Cookies & Cream (centre) is vegan and filled with digestive crumbs, caramel sauce, Oreos and dark chocolate ganache topped with dark chocolate eggs and gold leaf. Finally, Billionaire features caramel ganache, digestive crumb, salted caramel sauce and butterscotch pieces topped with crispy pearls and fudge pieces.
Paul Spring Sharing Box
£26.95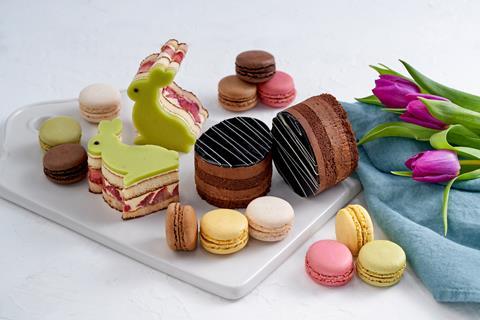 Primed for al fresco Easter weekend lunches (in groups of six and under, obviously), this collection from Paul is filled with cheerful treats. Inside the box you'll find two Fraisier Bunnies (sponge cake filled with mousseline cream and fresh strawberries, topped with green marzipan), two Craquant Eggs (dark chocolate sponge cake with chocolate mousse, a thin layer of crisp praline and a chocolate glaze), and a box of 12 mini macarons. The box is available online only in select London and Oxford postcodes.