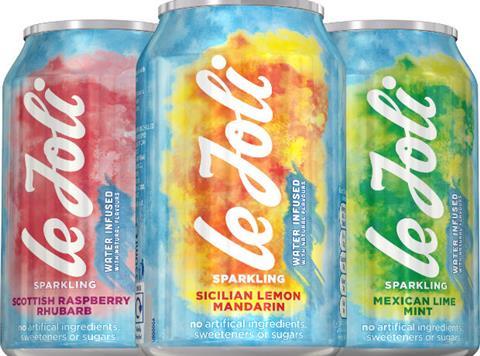 AG Barr has responded to Brits' growing thirst for sparkling flavoured water with Le Joli - a three-strong range in a can.

Infused with natural flavours, the new brand's zero-calorie drinks lack sugar, sweeteners and artificial ingredients. Scottish Raspberry & Rhubarb, Sicilian Lemon & Mandarin, and Mexican Lime & Mint are available now (rsp: £1/330ml).

Le Joli is the newest addition to the UK's burgeoning spritzer water trend, joining the like of Ugly, Dash Water and La Vie.

Its launch is the latest move by AG Barr to offer drinks that avoid the sugar tax. The supplier has reformulated the vast majority of its sugary drinks, and introduced healthier options such as Strathmore Botanics and Rubicon Spring.