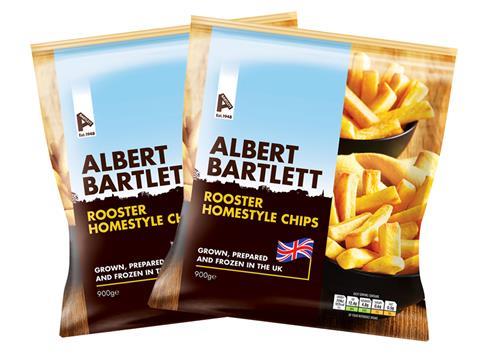 Norfolk potato grower Albert Bartlett has made its frozen food comeback five years after its last foray beyond fresh produce came to an end.

The potato producer this week launched Homestyle Chips in 900g and 1.5kg formats (rsp: £1.75-£2.50) and Roast Potatoes in 750g (rsp: £1.75) into Sainsbury's and The Co-op. Both are made with Albert Bartlett's signature British-grown Rooster potato variety, sourced from the business's grower group.

The launch marks the first piece of frozen NPD from the brand since its investment in a new frozen potato factory in Westwick, Norfolk, last year. Further products and listings would be announced "shortly", it said.

The return to the freezer aisle was a "natural next step" for Bartlett, said head of marketing Michael Jarvis, adding consumers could expect a "better-tasting, higher-quality" product from Bartlett's new range compared with what was already on the market.

Bartlett first launched frozen chips in 2008 and chilled mashed potato in 2009, but both disappeared in 2010. Bartlett said it had "learned a lot" from its previous foray and had put that experience into practice.

"We now have quality control in every step of the process. Our brand is seven years older and loyalty has grown over this time," said Jarvis.

Bartlett is supporting the launch with a £3m national TV push that will run throughout November - focused on the brand's "expert knowledge" of potatoes, alongside a digital campaign.