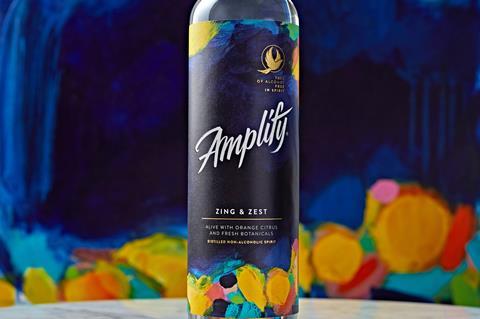 Amplify, a new non-alcoholic spirit brand, has made its retail debut at Morrisons.
Amplify Zing & Zest (rsp: £15/50cl) was made with ingredients such as juniper berries, coriander seeds, Angelica root, lemon peel, lemongrass and ginseng root, which combined with orange and citrus to provide a drink that "satisfies and satiates without disarray".
It said it aimed to refresh the alcohol-free spirit sector, positioning itself as "spirited, carefree, adventurous, sociable and uncompromised".
While Morrisons lists it as a non-alcoholic gin, Amplify noted that it didn't have "the same botanical profile" as gin and was "much more citrusy".
Amplify said the drink was "for the mindful drinker". It provided a "versatile way to enjoy the rituals of drinking without compromise".
Its marketing director Clare Gibson said the non-alcoholic spirit was all about "amplifying your senses without the alcohol, which means you're sharper, more in the moment and able to take in your surroundings". She added that it appealed to "the young at heart who are thirsty for new experiences".
It suggested serving Zing & Zest on ice with Fever-Tree Mediterranean Tonic and some fresh orange juice.