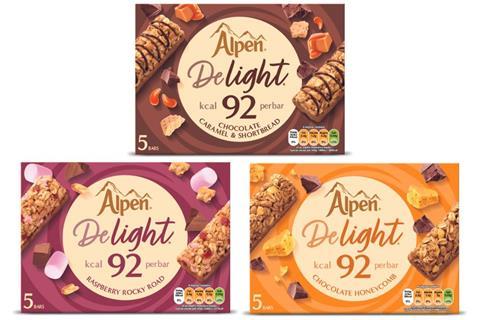 Weetabix Food Company has revamped its Alpen Light cereal bars range, renaming it Alpen Delight and overhauling its variants.
Set to hit stores in October, the six-strong lineup of "decadent" options includes Chocolate, Caramel & Shortbread; Raspberry Rocky Road; and Salted Caramel. Each bar weighs between 19g and 24g, providing 72kcal to 92kcal. All come in a multipack of five (rsp: £1.99), boasting a refreshed pack design.
Their rollout will mark the end of Alpen Light variants such as Jaffa Cake, Summer Fruits and Chocolate & Fudge.
"Alpen Delight was developed to cater to the shifting needs around snacking," said Weetabix. "Shoppers are looking for products with a positive wellness drive, seeking cereal bars that primarily offer enjoyment, in addition to lower calories, rather than a purely diet-led item."
The relaunch will be backed by a major sampling push throughout autumn – in-person and via Triyit, an online 'product discovery club' – allowing more than 40,000 consumers to trial the new bars.
Alpen would also team up with a "well-known TV personality" for national PR and social media campaign 'Moment of Delight', Weetabix added.
Alpen Delight was aimed at energising the stagnant cereal bar market, the supplier said. Take-home volume sales remained flat last year at £283m, with value up 3.9% only as the result of higher average prices [Kantar 52 w/e 22 January 2023].
"Alpen Delight is an exciting, modern, and delicious addition to the Alpen portfolio, which we expect will welcome a new audience of snack lovers to the brand, boosting sales for Alpen and the overall category," said Lou Vickers, head of challenger brands at Weetabix.
With the cost of living crisis still in effect, "there must be a clear reason to add a new item to the shopping basket, which is why sampling is a central part of this launch", she added.
"The 'Moment of Delight' Marketing activity, which encourages everyone to take a moment to themselves every day, will also increase awareness of the innovation and support sales for retailers."