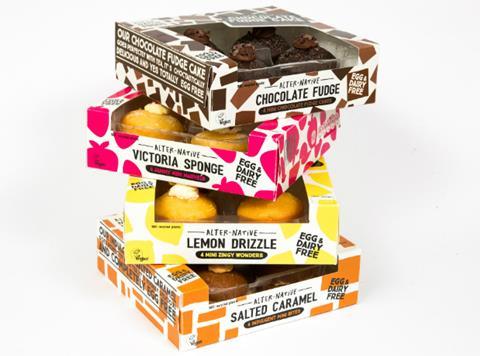 Alternative Foods has unveiled a vegan cake range made using an egg replacer developed from the naturally occurring protein in aquafaba.

Available now, the Alternative Cake range comprises Lemon Drizzle, Salted Caramel, Chocolate Fudge, Carrot Cake and Victoria Sponge, with an rsp of £2.49 for a two-pack of individual cakes, £4.75 for a four-pack and £4.95 for a five-inch cake.

Made using "totally natural, completely plant-based and entirely ethical," ingredients, the cakes are wrapped in 100% recyclable packaging made from bottle tops. A Children's Fairy Cake range with 30% reduced sugar was also "on its way", said the brand.
"Unusually, this all-plant range is not going to be targeted at vegans. We are marketing the range to absolutely everyone, but suitable for vegans," said Alternative Foods founder Hannah Carter.
Carter, whose "dream is to see egg replacement used in all home and commercial-scale baking products", will also launch the aquafaba-based egg replacer as a standalone product in spring 2019.

Developed in collaboration with the School of Food Science & Nutrition at the University of Leeds, Alternative OGGS will be billed as a liquid egg substitute for "all your baking needs".

"Dr Joanne Maycock and I have been working with Alternative Foods to develop a vegan egg replacement that can be effectively used in home baking," said Dr Caroline Orfila, project lead at the School of Food Science & Nutrition.

"Through collaborative research, we have helped them to discover a patent-pending process to stabilise plant-based proteins and create the optimal formula for a baking ingredient that works every time."