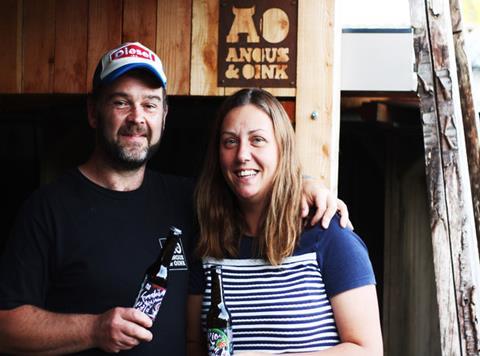 Scottish barbecue brand Angus & Oink has added three small batch beers to its portfolio under the sub-brand Guerrilla Brewing.

Unveiled as part of a strategy to encourage food pairing with beer, the NPD was produced in partnership with Glasgow-based experimental brewery Drygate Brewing, with an initial run of 700 bottles of each variant.

They are: Cocoa Chipotle Cartel, an oatmeal porter with a chocolate aroma and a hint of chipotle chilli (5.4% abv); Rio Passion Session, an IPA with a passionfruit finish (4.2% abv); and Tomahawk Red Indian Pale Ale, made with rye and tomahawk hops to give a 'deep flavour with a bourbon hit' (4.6% abv).

Guerrilla Brewing will officially launch during the Scottish Home Show this weekend (23 to 25 September) at the Aberdeen Exhibition and Conference Centre. Each bottle will be priced at £2.50 and will be available via the Angus & Oink website.

The new sub-brand was a "natural progression" for Angus & Oink, which produces hot sauces, rubs and sausages, according to co-founder Scott Fraser.

"We are devoted to the barbecue culture of the Southern states of the US and of South America, and want to present an all-encompassing barbecue product experience," he said.

He and his fellow co-founder, his wife Malissa Fraser, chose Drygate Brewing to make the beer because they "wanted to work with innovative people who still thrive on producing small batch beer".

"We're experimenting with beer and flavour combinations that emphasise food and regional cuisine around BBQ, street food and great produce," said Fraser.

Angus & Oink hoped to develop its range with Drygate and other craft brewers in the future.