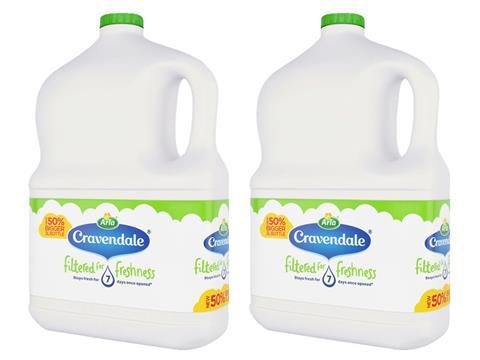 Arla Foods UK has launched a three-litre variant of Cravendale milk as it continues to make moves in the milk aisle.

The larger format bottle hit Asda shelves this week (rsp: £2.49) and is being pitched as the perfect option for shoppers who want to feed the family in "one simple shop".

Arla claims its Cravendale milk lasts longer than standard milk because it is filtered, a process removing the bacteria that turn milk sour.

"We have very loyal Cravendale drinkers and for them this product is perfect. Milk is a staple in any fridge and the fact that Cravendale stays fresher for longer means we're in the perfect position to offer this product," said Claire Mackintosh, brand manager at Cravendale.

The milk will be given an additional promotional push next month, with shoppers who buy Cravendale three-litre in selected Asda stores from 19 November offered a free limited-edition pink Cravendale glass and 15p of every purchase donated to Breast Cancer charity Tickled Pink.