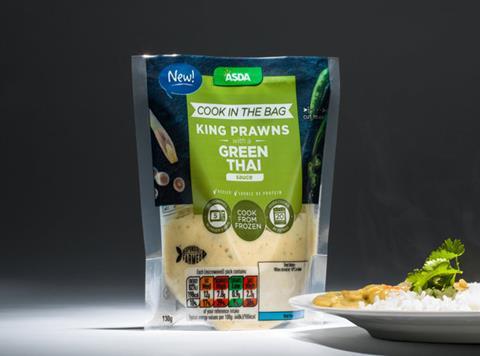 Asda has launched a new range of frozen fish-based cook-in-the-bag ready meals in packaging described as "an industry first".

The range consists of eight SKUs including haddock fillet cheese & chive, cod fillet red Thai, salmon fillet sweet chilli, and salmon fillet lemon & black pepper variants (rsp: £1.50-£2).

They come in printed, stand-up ovenable pouches - the Doypack - which pack developer TCL Packaging said was expected to change the way meals, soups, sauces and other products were packed and sold.

The pouches were not just suitable for reheating but for cooking raw food entirely from scratch, claimed TCL, and were made from a PET structure to ensure rigidity and stability during cooking with no reduction in performance.

"This is a technically complex and innovative product that we expect to transform how certain foods are packed," claimed Markus Jarvstrom, technical director of TCL Packaging.

The new packaging offered "a real alternative" for products such as sauces, ready meals and soups currently sold in rigid plastic and glass packs, he added.

"It reduces packaging and waste and is recyclable at appropriate facilities," Jarvstrom said.