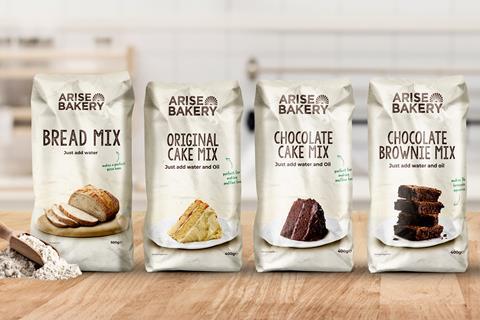 Asda has collaborated with protein breakfast brand Fuel10K in a bid to help tackle shortages of home cooking products caused by the coronavirus outbreak.

The breakfast cereal maker has combined with retailer to launch Arise Bakery, a new range of baking mixes.

Asda said the company took just 26 days to come up with the concept before it reached the supermarket shelf.

It had also brought two of its team back from furlough because of the tie-up, it added.

The range includes six different mixes including bread, cookies and cakes, from £1.50 each.

Customers can add water and oil to create baking products.

"We've had to be resourceful in these challenging times and creating the Arise Bakery range not only allows us to support a British supplier, but also create products we know our customers will love," said Laura Williams, desserts and baking buying manager at Asda.

Fuel10K co-founder Jason Kerr said: "We have been able to extend our offering from cereals to baking mixes by reacting to consumer demand and working collaboratively with our supplier and the team at Asda.

"This has helped our suppliers during uncertain times with two teams being brought back from furlough to make all this happen in record time."

Meanwhile, Asda has re-opened its Create Your Own pizza service at its counters this week, which had been suspended due to the crisis.