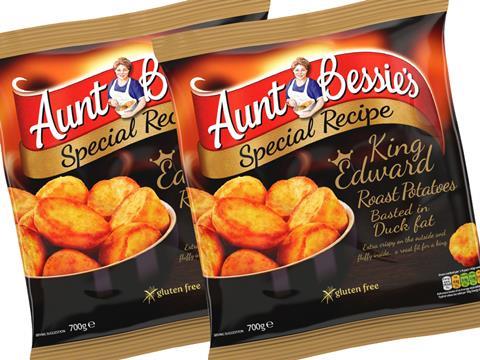 William Jackson Food Group has unveiled a raft of frozen launches under its Aunt Bessie's brand - including its first potato NPD since ending its supply contract with Heinz.

Among the launches are two 'Special Recipe' premium potato lines: Chunky Chips coated in beef dripping (rsp: £2.79/770g versus the £1.89 for standard Aunt Bessie's chips); and King Edward roast potatoes basted in duck fat that mark the first time Aunt Bessie's has specified a potato variant on pack.

Also rolling out this month are Homestyle Wedges (rsp: £1.99/750g) and sweet potato mash (rsp: £1.89/500g).

The products are made by Belgian-based Agristo after Jackson's decision last year to take management of the Aunt Bessie's potato range in house. This marked the end of a licensing deal under which Heinz produced the products.

"The range showcases Aunt Bessie's expertise in the potato sector - putting trends and insight at the forefront of our development," said senior brand manager for potatoes Helena Young.

The brand is extending it York­shire puds range with Special Recipe puds that are larger than its standard puds.

It is also launching three microwavable dessert puds - rhubarb crumble, apple crumble and chocolate sponge (rsp: £1.69/twin pots).

Aunt Bessie's is also teaming with Downton Abbey to promote its range with an on-pack promotion. Products will be temporarily rebranded as Mrs Patmore's - after the Downton Abbey cook - with an image of the character replacing Aunt Bessie on pack.