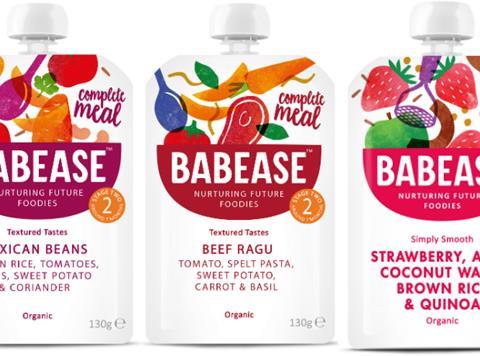 Babease has teamed up with Ikea for a child nutrition initiative as the babyfood startup adds three more variants to its organic portfolio.
The brand will next month roll out a trio of pouch meals – two of which the Swedish retailer will give away to shoppers with infants. The push to encourage healthier eating in young children will see Babease become Ikea's exclusive babyfood brand.
The new pouches for feeding stages one and two will also be available to buy from Tesco and Ocado from around mid-December. They are Beef Ragu (rsp: £1.60/130g) made with 20% beef, parmesan and spelt; Mexican Bean (rsp: £1.50/130g) featuring 20% plant-based protein; and Strawberry, Apple, Coconut Water, Brown Rice & Quinoa (rsp: £1.20/100g) made with coconut water and 40% strawberries. The bean and fruit meals will be handed out by Ikea.
All three variants were "nutritiously dense and in line with our values to create food for babies, not babyfood" said Babease founder Tom Redwood. "We are delighted to extend our reach and product range to build on the success of our journey so far."
The NPD comes as Babease's value in grocery is up 7.1% to £633k. Earlier this year it kicked off a Seedrs campaign, seeking £850k as part of a larger effort to generate £3m total investment to grow the business. However, the babyfood brand – which made its debut in December 2015 – fell short of its crowdfunding target, raising a little under £662k.
Last month, Babease launched its first integrated marketing campaign, enlisting the help of nutritional therapist and author Madeleine Shaw.