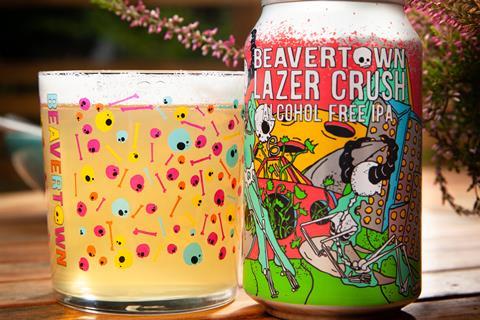 Beavertown has created its first alcohol-free beer.
The craft brewer, which Heineken owns a 49% stake in, has unveiled Lazer Crush, an alcohol-free IPA, which contains 83 calories per can (rsp: £1.60/330ml).
Billed as "a punchy and fruity brew", it was "created to provide an uncompromising tasting craft beer for those looking for a no-alcohol option", said the brand.
It was created with a new, unnamed type of yeast that provided "even more fruit flavour with only 0.3% abv created during fermentation", it added, giving it a "crisp and mildly malty base before hoppy notes emerge, followed by a wave of fruity undertones".
"Whether a pint is alcoholic or not, it's still a fundamental part of coming together with friends," said Beavertown founder Logan Plant.
The brew will roll into independents and Beavertown's web shop.
It's the second launch in the low & no category for the brand – it launched a 2.8% IPA called Nanobot in May.
Willam Reed – the publisher of The Grocer – has launched an exhibition exclusively for the low and non-alcoholic drinks sector. For more information visit low2nobev.com