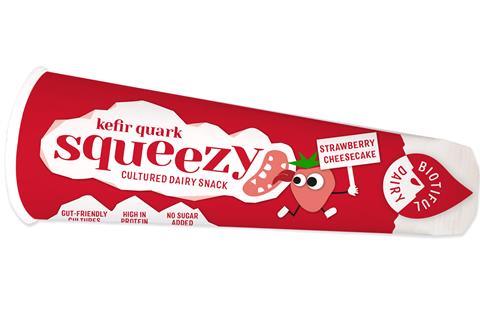 Kefir brand Biotiful Dairy is to launch its first kids products in a bid to reinvigorate the children's dairy category.
Its new ranges – Kefir Quark Squeezy (rsp: 95p/65g) and Kefir Slurpy (rsp: 75p/100ml) – launch in Ocado and Whole Foods in October. The brand said the products would bring children back into the category following "parental dissatisfaction" with sugar content in kids' dairy.
The Squeezy will be sold in a squeezable tube format and comes in two variants – strawberry and vanilla. It will combine kefir and quark cultures wth British milk to form a "nutrient-dense" product which promises to contain no added sugar, a high protein content and gut-friendly bacteria.
Biotiful's Slurpy range comes in a pouch format and will be available in strawberry and mango flavours. It too is said to be "packed with gut-friendly bacteria" as well as having no added sugar and being "a great source of protein".
"Children's dairy is in clear need of innovation and improvement and our kids NPD is set to shake up the category, bringing all the benefits of kefir in flavours and formats that children will love," said Biotiful Dairy's founder, Natasha Bowes.
"Combining natural functionality and nutrition with great taste makes the range distinct from the competition and will drive appeal from retail customers and consumers alike."
Children's yoghurt consumption is down 1.2% year-on-year to 725 million occasions, with breakfast occasions dropping by 8% [Kantar 52 w/e 21 April 2019].