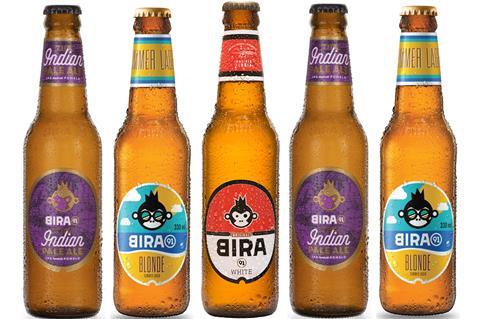 Indian craft beer Bira 91 is coming to the UK.

The brand, which sponsored the ICC Cricket World Cup last year, will debut a trio of brews in 330ml bottles from April.

They are: Blonde Lager (4.5% abv), White Ale (4.7% abv) and Indian Pale Ale (4.5% abv).
Blonde Lager is biulled as a "vibrant, crisp and clean" brew, with "floral, spice and grapefruit aromas".
White Ale, meanwhile, was "a modern take on Belgian-style wheat beers", said Bira 91, adding it was brewed with orange peel to give it "a citrus burst".
Lastly its Indian Pale Ale was a "tropical, balanced and bright" brewed with toasted and caramel malts and finished with pomelo fruit and "new age" hops for a "refreshing and citrusy take" on a traditional IPA.
Bira 91 founder Ankur Jain said drinkers were "opting for a more fun, relaxing beer drinking experience that doesn't compromise on quality, taste and experience".
Craft beer was "in a new world with massive opportunities for new consumers coming into the category and new markets yet untouched by flavour in the beer category".
Retail listings are yet to be confirmed.