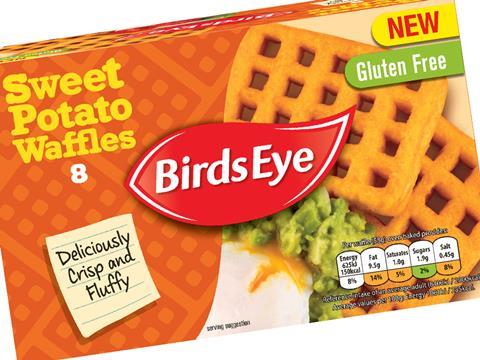 Birds Eye has added a Sweet Potato variant to its Potato Waffles brand, rolling it into freezers this week with an eye to £3.6m first-year sales.
The new side (rsp: £2.50/8x58g) is made from "lightly seasoned" sweet potato and potato, with each 100g containing 255kcals and 24g of carbs – compared with the 180kcals and 22g of regular Potato Waffles.
Nevertheless, sweet potato "over-indexes for all enjoyment and health need states, with perceived health benefits over potato alternatives" said Birds Eye. It had "successfully added value to traditional chips and mash eating occasions", and the supplier expected "the same will be true for the £45m waffles retail sector".
Launched in 1981, Potato Waffles were "an icon in the UK and Ireland" said Pete Johnson, general marketing manager at Birds Eye. "Sweet Potato Waffles give people a new option at teatime and perhaps adds a new vegetable to the plate in are a trendy twist on a family favourite."
Last week, Birds Eye reported that "improving the quality of products" was among factors that had returned the company to growth for the first time in four years. it had It reversed 2016's 3.9% revenue slump to push sales up 2% to £407m for the the year ending 31 December 2017.