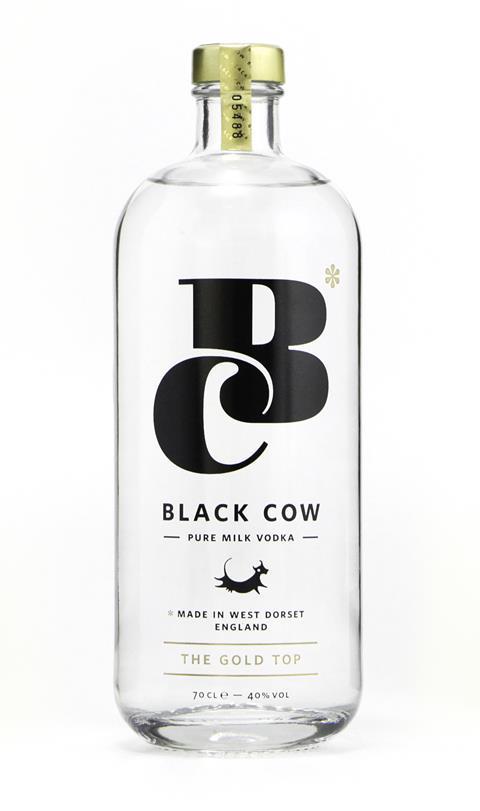 Black Cow vodka, which is made only from cows' milk, is hoping to secure distribution in the mults after signing with agency Mangrove.
The drink, which is listed in Selfridges, Fortnum & Mason and independent retailers, is available in 70cl (rsp: £31.65) and 50cl (rsp: £25.75) bottles.
Black Cow was founded in 2003 when West Dorset dairy farmer Jason Barber looked for ways to diversify the produce from his herd. The product was inspired by Araka, a vodka traditionally distilled from mares' milk by the Tuva, a nomadic tribe in Siberia.
The product is made from fresh whole milk, which is separated into curds and whey. The curds are used to make cheese and the whey is fermented into a beer using yeast that converts the milk sugar into alcohol. This milk beer is distilled, treated and then blended using a 'secret process' before being triple-filtered and finished.
"Black Cow is the kind of innovative premium brand that excels under our expertise," said Mangrove MD Nick Gillett. "We will enjoy developing the brand further and creating a great footprint in the UK market while they focus on the rest of the world."
Black Cow co-founder Paul Archard said he was confident the business had chosen a great partner in Mangrove. "Mangrove has proven brand-building expertise and has delivered strong results in the past ten years and we are confident they will take Black Cow to the next level," he added.
Mangrove, established in 2003, represents brands including Herrudura tequila, Portobello Road Gin and Old Forrester bourbon.