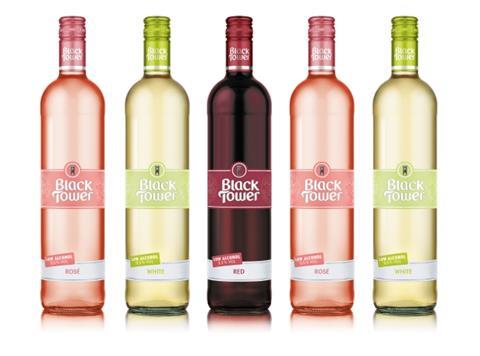 Black Tower has jumped on the low-alcohol bandwagon with a fresh range of 0.5% abv wines.
The 'Deliciously Light' range features red, white, rosé and sparkling wines, and is aimed squarely at younger, millennial drinkers, particularly women. It would also "provide a diet-friendly alternative to alcohol over the festive season", said the brand.
The white had "aromas of passion fruit and grape and is fresh and fruity" while the rosé had "aromas of blackberry and strawberry", the red of "blackcurrant and spices", and the sparkling "aromas of peach and pear".
It comes as attitudes have changed thanks to "the taste and quality of low-alcohol wines greatly improving with comparable alternatives to popular varieties now available", said Black Tower export sales director Alison Fleming MW.