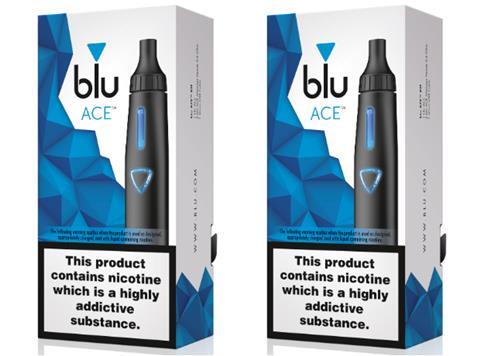 Vaping brand Blu has boosted its portfolio of devices with Ace – its "most powerful open-system yet".
Rolling out this week, Ace would provide UK's growing number of vapers "with a cutting-edge device that can be tailored to their needs", said Blu.
The new device features a 0.6 sub-ohm atomiser head – allowing for power without excessive heat – and adjustable airflow, which allows users to unlock more flavour with a stronger 'throat hit' or experience a less intense vape.
The Ace starter kit includes a device and two atomiser heads (rsp: £29.99). Replacement heads are available in a four-pack (rsp: £9.99) while liquids come in 10ml bottles in zero, 0.8% and 1.6% nicotine strengths across eight flavours including Tropic Tonic, Vanilla Crème, Caramel Café and Polar Mint (rsp: £4.99).
Blu owner Imperial Tobacco was "committed to continually advancing the category through the development of new technologies" said the company's head of next generation products, Sophie Hogg. "Ace allows vapers to tweak and personalise the way they inhale, meaning this advanced system is able to generate bigger, smoother vapour than any other product in the Blu portfolio."
The launch comes a week after Blu's debut in the 'pod mod' market with the late-March launch of compact, closed vape device MyBlu. A rival to the likes of the Vype Pebble, its one-step 'click-and-go' design for changing its nicotine liquid pod allows users to "switch between flavours in seconds".