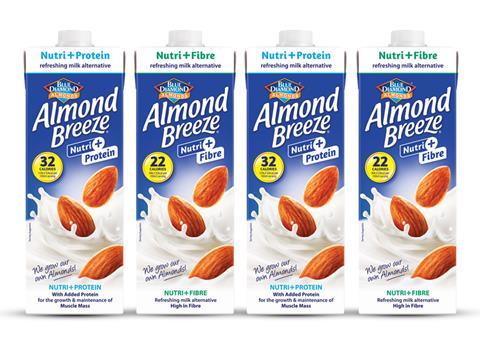 California-based Blue Diamond has launched a duo of new almond milks fortified with added protein and fibre.

Almond Breeze Nutri+ Protein and Nutri+ Fibre (rsp: £2.40) rolled into Waitrose stores nationwide at the end of October, joining Almond Breeze Nutri+ Calcium, which has been stocked by the retailer since May.

Designed to help shoppers following a vegan or dairy-free diet get the vitamins and nutrients they need, the Nutri+ range is "the first of its kind in the UK", claimed Blue Diamond MD Ian Greengrass.
"Many almond drinks are fortified with calcium, but we're the first to add extra protein, fibre and even more calcium," he added.

Both Nutri+ Fibre and Nutri+ Protein are aimed at the health-conscious shopper, with the former aiding a healthy digestive system and the latter boosting muscle recovery, ideal for a post-workout drink.

"The added fibre in Almond Breeze Nutri+ Fibre also means you'll maintain fullness for longer, and at only 22 calories per 100ml, it's perfect for those looking to lose weight," said Greengrass. "It's also great for boosting the fibre intake for those following a coeliac or gluten-free diet, who naturally eat less fibre."

Almond Breeze Nutri+ Protein was "ideal for naturally boosting protein intake in children, adults and the elderly, and unlike other protein drinks, it is also dairy and soya free," he added.

Recent research by Blue Diamond into the growing trend of veganism predicts the number of British consumers taking up the diet will continue growing in the next 12 months.

"There are a variety of reasons why people are choosing a vegan diet, whether it's a lifestyle choice or for ethical reasons," said Greengrass. "There has been a growing number of influencers who have also been pushing the vegan trend, which does have an impact."

The vegan and dairy-free movements are largely fuelled by females, the research found, with two-thirds (67%) more women than men are planning to embark on a dairy-free diet in 2017, and over a fifth (22%) more women than men set to try veganism.

Millennials are also driving the change in eating habits, with more than a fifth (21%) planning to try going dairy-free and 19% planning to try veganism.