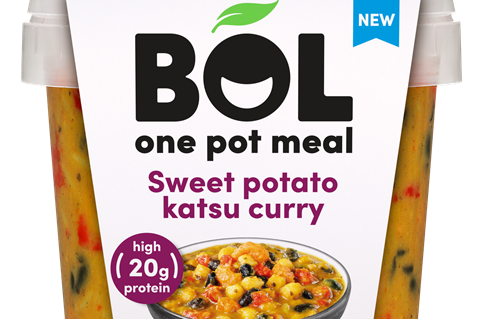 Bol has added a deluge of new recipes to its range.
The plant-based brand has added seven new SKUs, including two soups – Energy Boosting Thai Red Coconut & Lentil and Immune Boosting Roasted Butternut Squash & Chilli – alongside a new Italian Roasted Tomato Pasta Veg Pot, a Sweet Potato Katsu Curry One Pot Meal, Spicy Firecracker Udon and Japanese Yakisoba Posh Noodles, and a Chickpea Masala Dinner Box.
Each launch was "packed with healthy plant protein, fibre and up to four portions of veg, along with fragrant herbs and spices to help nourish people in a natural way this winter", said the brand.
The brand wanted to "continue creating delicious, plant-based recipes that excite and interest all consumers, whether they are passionate plant eaters or those looking to eat a little less meat each week, and we believe our new recipes are set to do just that", said Bol senior brand manager Jess Vara.
It comes just months after the brand unveiled a swathe of NPD and switched up the recipes of much of its range in the summer, introducing its 'posh noodles' range and adding a quartet of power pots, as well as an oven-cookable Buffalo Cauli Wings dish.
The summer range refresh had "transformed Bol, contributing to 55% of our overall monthly volume, and helping us to feed the UK 350,000 plant-based meals", said Vara.