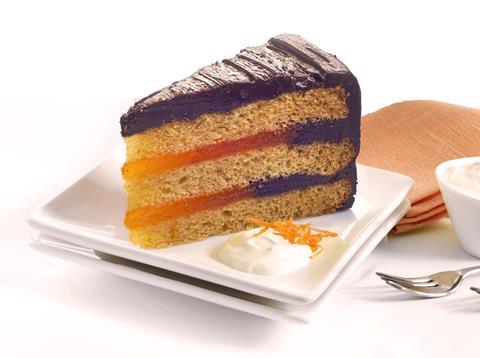 Foodservice wholesaler Brakes has launched a new range of vegan cakes.
The new offer will comprise five varieties: jaffa cake, salted caramel cake, pre-cut chocolate fudge cake, cherry & chocolate dessert and jam roly poly.
Brakes said its vegan jaffa cake was a foodservice first and would be the 'flagship' product in the new line.
Research carried out by the wholesaler showed a growing trend towards 'nostalgic comfort food', which has been driven by the coronavirus crisis and inspired the range.
"We've developed a fantastic range of vegan products, which do not compromise on taste or quality and will help our customers take a slice of this increasingly lucrative sector," said Brakes category manager bakery, desserts & ice cream Vanessa Baker. "Over the past few years, Brakes has stood out from the competition when it comes to developing innovative, tasty award-winning products and this range is no exception.
"The growth in vegan products has been exponential and it shows no signs of stopping. It's important, particularly in these difficult times, that we help our customers to capitalise on as many opportunities as possible. Having a great vegan range is an important part of that.
"However, the beauty of these products is that while they are suitable for vegans, they offer the best of all worlds: a great-tasting product that consumers will love, and which will be a fantastic addition to any menu in its own right, with the added advantage that they are also suitable for vegans."