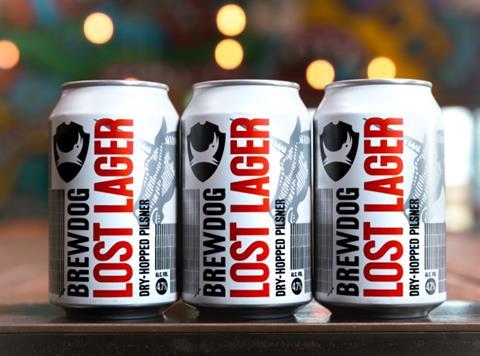 BrewDog has teamed up with Tesco and Booker for the launch of the newly-joined retail and wholesale giant's first exclusive product.
Lost Lager, a dry-hopped pilsner The Grocer reported BrewDog to be developing in January, hit Tesco's shelves this week in a 330ml canned multipack and 660ml bottle, with a 12x330ml pack available to Booker's on-trade customers.
The lager (4.7% abv) is made with German Saphir hops, which Tesco said were "renowned for a vibrancy of citrus and stone fruit", and lager yeast from Weihenstephan Brewery, near Munich, which created "a crisp, clean pilsner with hints of spice and a zesty lime marinade character".
BrewDog's head of UK sales Steve Ricketts insisted Lost Lager's availability was "in no way hampered" by the decision to launch as a Tesco and Booker exclusive. "Rather, it gives us a really defined place to exist for its initial run."
Tesco had "challenged" the brewer to produce a craft lager, he told The Grocer, citing a "long and successful relationship" with the retailer - which has previously included initiatives such as the in-store trial of branded BrewDog fixtures.
"We hope to roll out the beer to more on and off-trade sites beyond the initial first to market launch so the beer is available as far and wide as possible."
BrewDog has used the launch to continue its PR assault on its rivals, announcing a 'bad beer amnesty'. Shoppers can swap a can or bottle from another lager brand for a pint of Lost Lager by visiting one of BrewDog's bars across the UK. Beer collected would be recycled, said BrewDog, with a portion being converted into renewable biogas and biofertilisers through anaerobic digestion.
Lost Lager's introduction follows the launch of a major ad campaign from the brewer, comparing consumer scores from Ratebeer.com for its flagship Punk IPA against those of Budweiser, Carling and Foster's.
It comes as many larger craft brewers are turning away from less popular and stronger styles of beer, such as IPA and stout, to lager in efforts to widen their consumer base. Last week, Camden Town Brewery toned down the alcohol content of its India Hells Lager and rebranded it Show Off Juicy Lager.