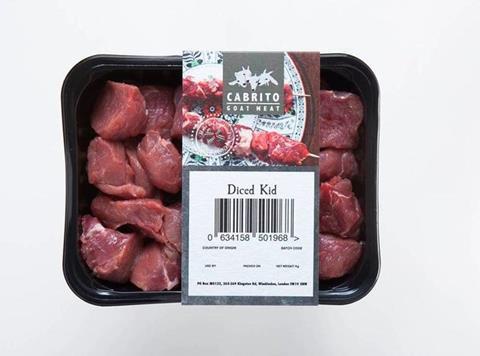 Goat meat brand Cabrito has secured a listing with Ocado for its range of kidmeat products.
The range consists of kid mince (400g), diced kid (400g), four kid chops, and two kid shanks (rsp: £7.99/kg to 25.99/kg), and was the first mass market goat meat product to go on sale in a major retailer, said owner James Whetlor.
The listing of the meat - which is sourced from dairy farms in the South West - reflected an increasing demand and appetite from consumers, added Whetlor, who has previously worked as a chef at Hugh Fearnley-Whittingstall's River Cottage, and has supplied top London restaurants with the meat since 2012.
"Goat meat is moving into the mainstream, which is thanks to top London chefs such as Mark Hix and Jeremy Lee, and this is great news for everyone," Whetlor said. "Britain is finally waking up to what the rest of the world has known for a long time; goat meat is delicious."
Kid goats are of a similar size to a spring lamb (about 20kg) and have a delicate, sweet and musky flavour. Whetlor added the meat took well to punchy flavourings including Mediterranean and Middle Eastern herbs, spices and rubs, and was lower in fat than beef or pork, rich in potassium and contained twice as much iron as beef.
The brand will launch an added-value range into Ocado after Christmas including kid sausages and meatballs.