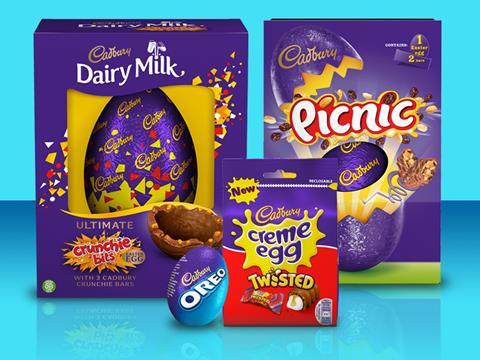 Mondelez is to introduce an Oreo variant of its Cadbury Creme Egg to the UK – two years after national newspapers erroneously claimed a launch was happening.
The latest addition to the growing lineup of Cadbury-Oreo products will land in January with an rsp of 58p for 31g. Due to the 'airy' nature of its filling of Oreo cream and biscuit pieces, it is 23% lighter than a regular 40g Creme Egg.
In early 2017, numerous media outlets mistook the Canadian debut of the Oreo egg for a UK launch. The Sun reported that the 'easily teared [sic] purple, yellow and red foil' had been replaced by a 'futuristic blue plastic cup'. In fact, the British variant will be wrapped in purple and blue foil, rather than the plastic 'shell' from Canada.
In Canada, the snack was "62% incremental to Cadbury Creme Egg" said Mondelez. In the UK, it will join a chocolates range of Cadbury-Oreo that has become worth £48m since launching six years ago in with a sharing bar.
Mondelez's Easter 2019 lineup will also see the return of the limited-edition white Creme Egg, which arrived this year under the guise of a regular variant. Each won a consumer a cash prize, although the top prize of £2,000 went unclaimed as of the 1 May deadline. A similar contest will run in 2019.
Next year will also see Twisted, the Cadbury chocolate bar with a Creme Egg filling, get its own SKU for the first time since being axed as a countline five years ago. It will come in a 94g bag of bite-size pieces.
The Creme Egg Mega Egg (rsp: £4.99/209g), added last year exclusively in Asda, will roll out across grocery. It is a large plastic Creme Egg filled with singles and bags of minis.
Other Easter lines will include a Crunchie variant of its Cadbury Dairy Milk Inclusions Shell Eggs (rsp: £12/570g), which have made £4m in value sales since rolling out in February. And Picnic will get a shell egg (rsp: £6.15/280g) for the first time in 25 years to tap demand for peanut-based fillings.