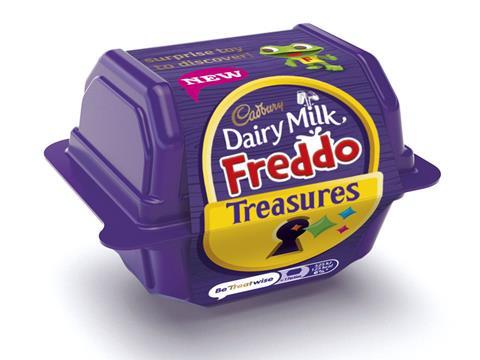 Cadbury is to take on Kinder Surprise with Freddo Treasures, a combination of chocolate and a toy aimed at children aged from five to nine.
Backed by a £6m spend including Freddo's first-ever UK TV ad, Treasures was the first significant NPD for the brand in nearly six years, said Cadbury owner Mondelez.
It comprises a fully recyclable plastic pot shaped like a treasure chest, with Dairy Milk Buttons in one half providing 76 calories per 14.4g portion (528kcals per 100g). This is aligned with PHE's 'under 100 calories' guidance on kids' snacks as well as "Mondelez's broader strategy to increase wellbeing choices across its portfolio".
The other half of the chest contains one of 17 toys – either a figurine of Freddo or one of his seven animal friends, or a game such as a puzzle. Chance of a figurine is seven out of 10, according to Mondelez.
Rolling out from 7 January with an rsp of 90p, each pack also features a QR code that directs parents to "hidden historical treasure across the UK and Ireland, to inspire a fun day out for the family".
Treasures is comparable in price to Ferrero's Kinder Surprise, the leading brand in the confectionery subcategory of rewards for younger children. The market had been "stale over the past few years" according to Freddo brand manager Dave McDermott. "There's been a real absence of innovation."
Launched in the UK in 1973, Freddo was worth £25.1m with 76% brand awareness, he said. The chocolate brand "carries currency among consumers".