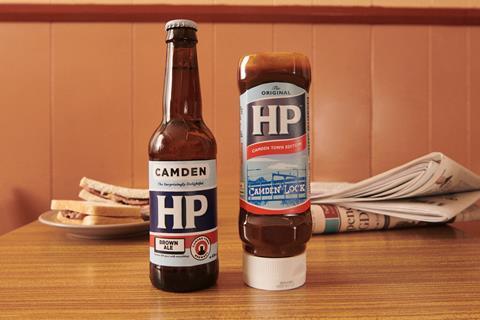 Camden Town Brewery has joined forces with HP Sauce to create an ale inspired by the taste of "everyone's favourite brown sauce".
The limited-edition HP Brown Ale combined "the very best of two British staples" to create a collaboration beer that was "a taste of what HP and Camden do best", the AB InBev-owned brewer said.
Instead of using HP sauce in the beer, the brewing team at Camden Town had "used the ingredients and flavours of HP" to create a "fresh and unique brown ale".
Aromatic sweet malt was used to replicate the sauce's "rich chestnut colour", while date puree provided a "fruity flavour reminiscent of HP Sauce", Camden said.
The "signature spices" of HP Sauce were used for a "subtle peppery and clove background", it added.
The beer was fermented using a hybrid technique featuring a sour yeast strain. This, Camden said, gave the beer a "not-quite-sour, not-quite-tart, 'tangy' note that HP is famous for".
The 4.0% abv brew would be available exclusively via Camden's webshop, with each four pack (rsp: £15/4x330ml) also containing a Camden Town edition bottle of HP sauce.
Bottles of the sauce – which feature the Camden Lock bridge – would also be available to purchase on the Camden website.
Georgina Fotopoulou, marketing Manager at HP Sauce, said: "For generations people have been enjoying HP over the dinner table and now they get to enjoy the intense and rich flavour in one of their favourite drinks – beer – and the result is delicious. We hope our HP fans will love this as much as they love our sauce!"
Camden Town Brewery's head of marketing Fred Nesbitt added: "We have teamed up with HP to brew a beer which we hope is a sauce for conversation between you and your nan, or just your mates."