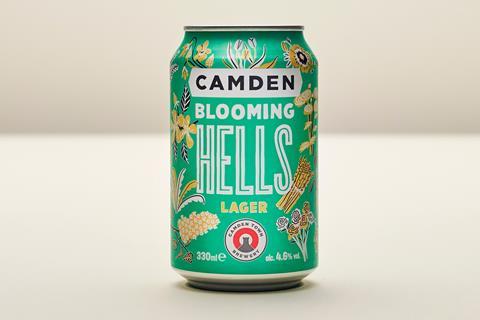 Camden Town Brewery has launched the latest limited-edition lager in its seasonal range in time for spring, with money from each can sold in supermarkets being donated to the Bumblebee Conservation Trust.
Brewed using fruity southern hemisphere hops from New Zealand, South Africa and Australia, Blooming Hells is inspired by the "rain, shine and bloom" of British springtime, the craft brewer said.
Blooming Hells will be the final lager in Camden's seasonal range, which have each supported a charitable cause, following launches of Strawberry Hells Forever, Harvest Hells and Hells in Hibernation.
With the latest brew, Camden will support the Bumblebee Conservation Trust's efforts to reverse declining bee populations. Each four-pack of Blooming Hells at Sainsbury's include seeded beer mats to encourage drinkers to grow wildflowers in their gardens to help bees this spring.
The brewery will also donate 20p from each can sold in March to help support the bees.
"We have now launched a full year of seasonal Hells beers, with our final addition, Blooming Hells," said Camden founder Jasper Cuppaidge. "We always love taking a fresh look at our Hells lager, and it's great to see how much our Camden fans have been enjoying the seasonal Hells, too.
"This initiative has given the brewery a platform to shout about causes important to us and support amazing charities, including the Bumblebee Conservation Trust this spring."
Strawberry Hells Forever Lager saw Camden create a vertical strawberry farm at its Enfield brewery in partnership with Grow Up Farm. In autumn, the brewer launched Harvest Hells to raise money and food donations for The Felix Project. And, most recently, Camden launched the winter edition, Hells in Hibernation, partnering with the British Hedgehog Preservation Society.
Camden Town Brewery's Blooming Hells will be available from 9 March in four-packs (rsp: £6/4x330ml)) at Sainsbury's and Co-op and in single cans (rsp: £2/330ml) at M&S.