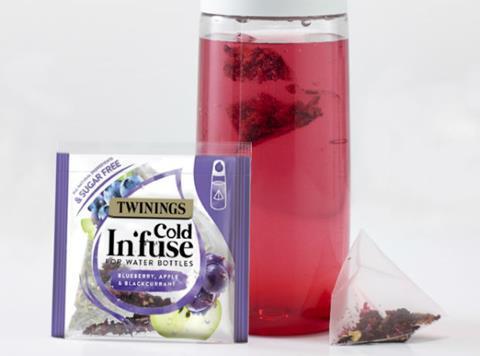 You wouldn't expect the standout innovation from the London Coffee Festival to come from tea stalwart Twinings. Yet the brand emerged as the focal point for coffee aficionados last weekend. Even more surprisingly, the innovation in question wasn't a tea.

In fact, Cold In'fuse would look more at home at a high-end Shoreditch gym than at an afternoon tea. The small teabags are filled not with tea but botanicals and small fruit pieces - and designed to release flavour in cold water rather than hot. There is even a stylish reusable bottle included in the starter pack. Twinings is hoping to start an entirely new category with the NPD: cold infusions. The rollout will begin in out of home now, with a big bang retail launch planned for July.

It's all very new for a brand steeped in tea and tradition. So what are its prospects?

Twinings has clearly done its homework. It has taken nearly two years to devise a way to make the fruit and botanicals infuse in cold water (using technology it's keeping closely guarded), which has given it plenty of time to research demand. Twinings senior marketing manager Claire Forster says it taps two major trends: an increasing awareness of the benefits of water, but also a desire for added flavour without artificial sweeteners or sugar. "We've got strong equity in being natural and we thought, why not bring that to water?" she explains.

Being natural and sugar-free could indeed chime with today's consumer, says Greg Vallance, executive creative director at brand consultancy Honey Creative. "I think the nirvana of adult drinks that are non-alcoholic, sugar-free and have the added benefit of getting us to drink more water is a welcome addition." Plus, now the sugar tax has hit home "anything that challenges the sugary carbonated drinks will very soon profit".

Chris Blythe, director of the Brand Nursery, agrees Cold In'fuse "ticks all the boxes you would want in terms of being bang on the health trend" - and gets top marks for sustainability by swapping single-use plastic for a reusable bottle.

Saying that, there are challenges too. Blythe says there is "a hell of an education job to do" in communicating the concept and getting consumers to choose it over ready-to-drink options. Cold In'fuse isn't being positioned as a tea (though it will sit in the tea aisle of supermarkets) and neither does it fall squarely into the flavoured water category. Twinings is setting a fairly premium price at £9.99 for a starter pack and £3.79 for 12 bags, which consumers will only pay if they understand the proposition.
Starting with out of home
That's partly why Twinings decided to launch in out of home first - because Forster believes it is a "great breeding ground for people to try new things". There will also be a £4m campaign targeting its audience of millennials, starting with sampling and getting digital influencers to try the product. Outdoor advertising will "go big" in July to coincide with the retail launch, with the water bottle working as the main visual alongside the tagline 'let's change it up'. "Getting the water bottle seen out and about is going to be critical," says Forster.

She believes, with the right marketing, people will choose it over ready-to-drink options (which can work out more expensive). As the bags can be added to any type of water, Forster says Cold In'fuse can capitalise on the growth in tap water consumption, which "no-one is making any money from at the moment. So what we're doing is helping consumers with an existing habit".

If it works, it could prove perfect timing for Twinings. The rise of own label and decline of black tea is hitting its core category of tea, which resulted in a loss of £2.9m in sales last year [Nielsen 52 w/e 30 December 2017]. Cold In'fuse may not think of itself as a flavoured water, but that is arguably its closest category. And that is booming. Supermarket shoppers took home an extra 33.5 million litres of flavoured water over the past year, pushing value sales of still and sparkling up 11.1% and 11.9% respectively to a total of £211.9m [Kantar Worldpanel 52 w/e 5 Nov 2017].

So with the rise of flavoured water, demand for all-natural products and impact of the sugar tax, this launch could be in exactly the right time and place. But, to use a well-worn catchphrase, it's likely to hinge on three things: education, education, education.