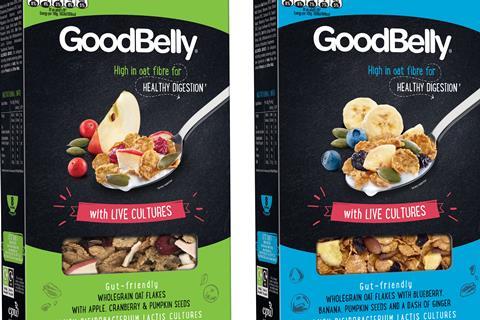 Cereal Partners Worldwide has joined the gut-health craze with the UK launch of GoodBelly, a brand of cold cereal containing live cultures.
Its two-strong lineup – Wholegrain Oat Flakes with Apple, Cranberry & Pumpkin Seeds and Wholegrain Oat Flakes with Blueberry, Banana, Pumpkin Seeds & a Dash of Ginger (rsp: £3.49/350g) lactis – includes Bifidobacterium lactis. They are probiotic cultures that do not require refrigeration, and are usually found in dairy products, fermented foods and supplements.
Made with no sweeteners or artificial flavours, GoodBelly also promises to be "high in oat fibre for healthy digestion", with 100g providing up to 18.6g of sugar and around 10g of fibre.
"With gut health being at the top of many consumers' minds, the first meal of the day is important in setting a precedent," said Cereal Partners.
The cereal will be exclusive to Tesco, landing on shelf from 30 October – about three months after the GoodBelly brand in the US expanded from fruit juice to breakfast with a range comprising four lactose-free yoghurts and Peanut Butter Crunch cereal.
"As part of our ongoing commitment to making breakfast better, we're excited to provide a breakfast cereal that helps get consumers on the path to a healthy gut" said Cereal Partners regional marketing director Toby Baker. "When your tummy feels good, all else follows. With a team of nutrition and food science experts behind us we created GoodBelly."