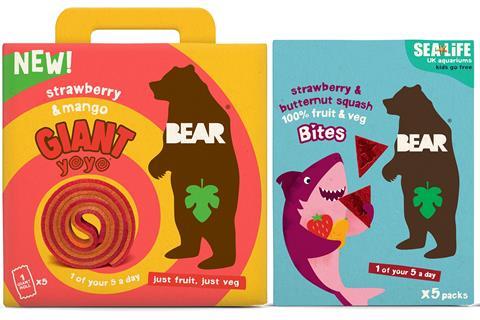 Children's snacking brand Bear has added two new lines: Giant Yoyos and Bear Bites.
The Giant Yoyos are an expansion to its existing Yoyo range, offering a larger snack with two flavours rolled into one.
Two flavours – Strawberry & Mango and Apple & Blackcurrant – will hit Waitrose from 11 May (rsp: £2.50/5x20g).
Bear Bites, meanwhile, is a new sub-brand aimed at "helping parents get their kids eating fruit and vegetables in a fun and interactive way".
It will debut with two flavours – Blackcurrant & Beetroot and Strawberry & Butternut Squash (rsp: £2.39/5x18g) – in a special-edition 'under the sea' themed pack, launching into Asda on 7 May.
They are both made with 100% fruit and vegetables, Bear said, and contain one of the 5 a day.
Marketing director Jo Agnew said Bear wanted to "do everything we can to make healthier choices easier for parents to find in-store, and more fun for kids to enjoy at home".