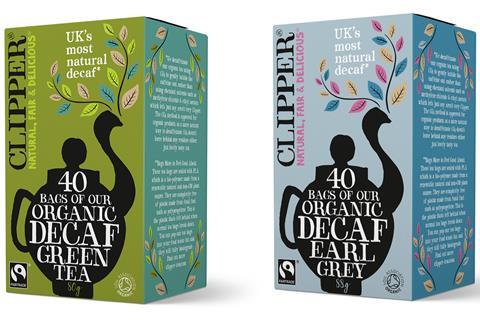 Clipper Teas has expanded its range of decaffeinated teas with two new products.
Earl Grey Decaf Tea and Pure Green Decaf Tea will join its Everyday Decaf Tea in the range.
The former was described as "light" and "refreshing" with a "distinctive citrus zing of natural bergamot", while Pure Green Decaf Tea was a "flawless" and "light" green tea.
They rolled out this month (rsp: £3.49/40 bags).
Clipper said the range used a "completely natural" decaffeination process, filtering the tea with CO2 instead of "harsh chemicals".
It said the process was approved for organic products as a more natural way to decaffeinate as it "doesn't leave behind any harmful residues".
The teabags are also unbleached, non-GM and made from biodegradable, plant-based material.