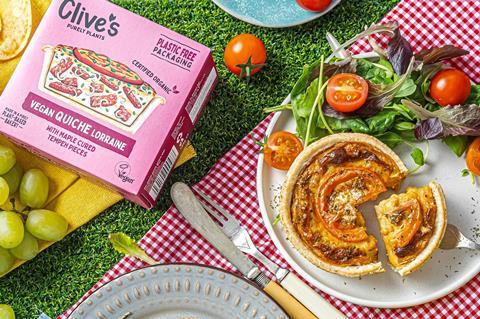 Plant-based brand Clive's Purely Plants has created what it claims is the world's first vegan quiche lorraine.
The quiche is made with a "signature" egg replacement made from okara – the whey from making soya blend – which it says gives the NPD "the perfect eggy, quiche texture", combined with tempeh marinaded with smoked paprika and maple syrup.
Kala namak, a kiln-fired rock salt with "distinctly sulphurous tones used in South Asia", was also added to the recipe for flavour.
Launching alongside a Creamy Cauliflower Quiche, it has rolled into Waitrose (rsp: £2/165g).
The brand had "done extensive research online and haven't been able to find another product like this anywhere in the world", said MD Esther Pearson, adding it was "delighted to be leading the way once again with these vegan quiches".
Waitrose vegetarian and vegan buyer Charlotte McCarthy said the duo of quiches "complement our existing vegan selection perfectly, offering our customers a new plant-based option that we're sure they'll love".