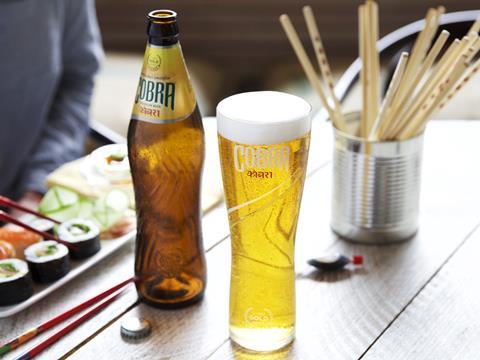 Cobra is moving into the free-from market with its first gluten-free beer.
The new gluten-free brew is poised for a January rollout into national retail, it is understood, having been trialled at a series of summer events.
The brand also plans to launch an IPA, called Malabar, exclusively into the on-trade over coming months.
The news comes as Cobra's eponymous lager has fallen prey to shrinkflation – but only in the mults, research by The Grocer reveals. The brand, run as a joint venture between Molson Coors and Cobra Beer in the UK, has cut the size of its large lager bottles by 6%, from 660ml to 620ml, despite retail prices in Tesco, Asda, Sainsbury's, Morrisons and Waitrose remaining the same.
It meant Cobra could "continue to offer a competitively priced product" to its customers amid rising production costs, a spokesman said, confirming the move.
"We work hard to minimise the impact of cost inflation that hits our business. However, cost increases this year across packaging materials, utilities and raw ingredients have meant it is necessary for us to make some changes."
660ml bottles of Cobra will still be available in Ocado and other retail channels.
Cobra isn't the only booze brand to have shrunk this year. The Grocer revealed last week that brewing giant AB InBev had cut the size of its Stella Artois Cidre Pear and Original bottles by 12%, reducing them from 568ml to 500ml amid soaring production costs.