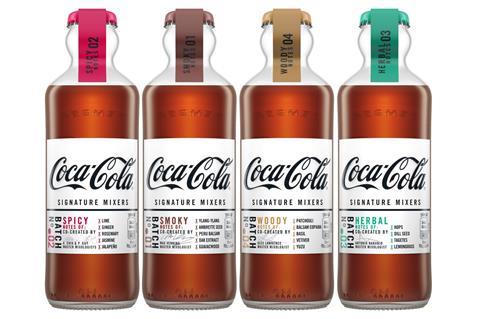 Coca-Cola European Partners has unveiled a quartet of 'Signature Mixers' designed to pair with dark spirits.
The fizzy pop giant partnered with bartenders from around the world to create the mixers, which roll out from early June in four flavours: Smoky Notes, Spicy Notes, Herbal Notes and Woody Notes (rsp: £1.25/200ml).
They are made using the Classic Coke syrup, with the mixologists adding flavours such as jalapeño, yuzu, basil and lemongrass. Each one is made to pair with a different dark spirit, such as bourbon or spiced rum.
Coca-Cola first approached the mixologists in 2018 to hold a workshop, where they "experimented with numerous ingredients to create the most complex flavour compositions".
The resulting products gave the brand a premium tier of mixers for dark spirits similar to the role Schweppes' 1783 range played with light spirits, said Coca-Cola European Partners VP commercial development Simon Harrison. "People are starting to experiment outside gin and vodka and consumers were telling us that there was a real sweet spot."
They come in 'Hutchinson' bottles whose design is based on the original bottle first used by the brand in 1894, when the drink was first bottled. "We very much wanted to differentiate [the range] from our 330ml bottle."
None of the Signature Mixers are exempt from the sugar tax, thanks to the use of Classic Coke as a base and "the role that sugar plays in mixology", said Harrison. They will have the same level of carbonation as Classic Coke.