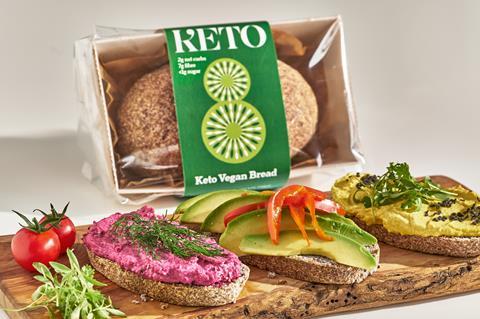 Free-from bakery startup Cru8 Foods is tapping two dietary trends with Keto Vegan Bread – a range that is grain-free, organic, low sugar and high fibre.
It comprises a traditional loaf and a four-pack of bread buns (rsp: £6.50/400g). They are made with ground almonds, coconut flour and golden flaxseed, making them a source of vitamin E, riboflavin and magnesium.
Each 100g contains 5g of sugar and 32g of fibre – which made the bread "gut health-promoting" according to Cru8.
It was also "the ideal companion to a low-carb keto lifestyle", the London brand said, and it had "a superfood ingredient profile that supports overall health and wellbeing".
With its latest NPD, Cru8 was "meeting growing demand in the UK for innovative grain-free products that can be incorporated in daily life" said founder Alexi von Eldik.
Grain-free food had been "shown to have tremendous health benefits, including being anti-inflammatory, gut-healing, hormone and blood sugar-balancing and mental health and wellbeing-promoting" she added.
"The high fibre, high fat and low net carb content of Cru8's Keto Vegan Bread also ensures a slow, sustained energy release into the bloodstream, which stabilises blood sugar levels and satisfies hunger pangs."
Available from next month through the Cru8 website and Chelsea Farmers' Market delicatessen, the bread will be joined by a Keto trio of sweet baked goods: Cacao Macaroons, Chocolate Chip Cookies and Almond Macaroons.
It comes after Cru8 secured a partnership in March with Deliveroo for its seven-strong Paleo Bread lineup.