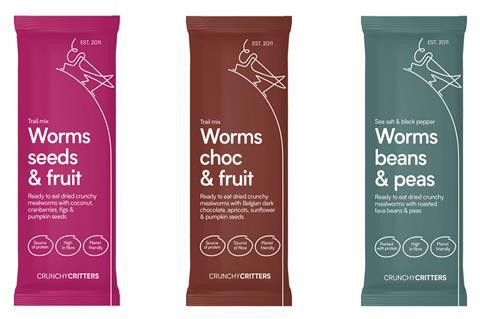 Edible insects brand Crunchy Critters has overhauled its range in a bid to lure more "mainstream" shoppers.
Its 11-strong range now includes snacks that "blend insects with more familiar ingredients", adding new SKUs in more traditional crisp-style flavours.
New launches include: Worms, Beans & Peas, available in Sea Salt & Cider Vinegar, Smoked Paprika and Sea Salt & Black Pepper flavours (rsp £2.49/30g), Worms, Seeds & Fruit (rsp £2.49/32g) and Worms, Choc & Fruit (rsp £2.49/32g).
The range also includes Crunchy Kids' Critters (rsp £2.49/8g), Just Mealworms (rsp: £2.49/10g), Just Buffalo Worms (rsp: £2.49/10g), Just Crunchy Crickets (rsp: £2.49/10g), Just Crunchy Locusts (rsp £6.49/10g) and a Worms, Crickets & Locusts mix (rsp £3.99/12g), all of which have had pack sizes – and prices – reduced "following customer feedback".
"With an increased focus on the environment, a booming market in healthy snacking and consumer openness to alternative proteins, it felt like the right time to reconsider our offer and create a brand and product range that delivers true innovation to retail buyers," said Crunchy Critters founding director Nick Cooper.
Yet despite their "great potential as a serious human food source", he admitted, "realistically, it's a big leap for consumers to go from not eating insects, to eating products made entirely from insects".
These changes, he said, would make people "more inclined to give the range a try".