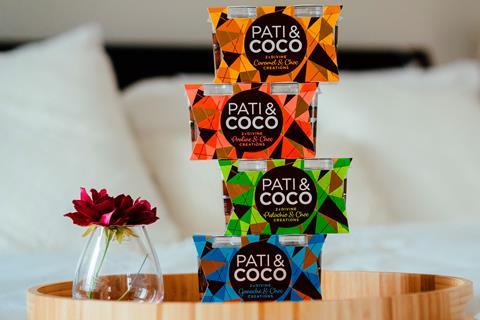 Danone has unveiled a new 'incubator innovation' brand called Pati & Coco.
It has debuted with a quartet of desserts, billed as "unapologetic indulgent chocolate creations": Ganache & Choc, Praline & Choc, Caramel & Choc and Pistachio & Choc.
Each dessert is composed of a solid chocolate top, layers of flavoured ganache and solid chocolate and a biscuit bottom.
They launched into Sainsbury's and Booths this week (rsp: £3.50/2x80g).
Danone created its incubator wing to "meet new needs" not currently addressed by its brand portfolio.
Its products are launched on a "test scale", from which the team can "learn, pivot and refine", and assess whether there is the potential to scale up.
Danone said it felt the indulgent puds were "what was missing" from its portfolio of desserts.