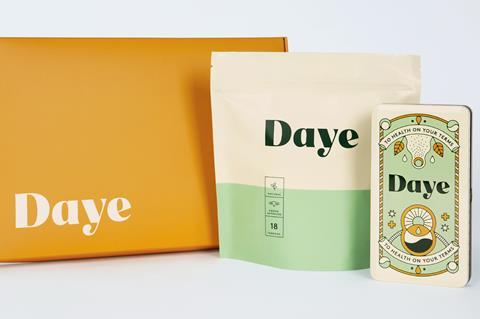 The 'world's first' CBD tampons are set to launch in the UK as a direct-to-consumer service.
Feminine hygiene startup Daye will begin selling its standard Naked tampons – made from organic, sanitised cotton – as well as the cannabidiol-infused Ultra-Soothing variants, via an online subscription model later in the autumn.
Daye claims the muscle-relaxing properties of the 150mg of full-spectrum CBD in its Ultra-Soothing tampons can soothe menstrual cramps by offering localised pain relief.
'If you're looking for the most effective way to absorb CBD for period pain relief, look no further than your vagina,' Daye's head of research Dr Harry Baxter wrote in a blog on the brand's website. 'Anything that is absorbed through the vaginal mucosa is recycled through the blood supply to the ovaries, uterus and vagina, rather than being sent out into the body's bloodstream.'
Daye's tampons are plastic-free and made from sustainably sourced cotton. They come with bio-based sugarcane applicators and water-soluble paper wrappers.
Daye also uses 'environmentally responsible' materials in its packaging, which includes compostable refill pouches, recyclable paper envelopes and reusable metal tins.
Subscribers will receive either 12, 14 or 18 tampons through their letterboxes each month, according to their needs. A pricing model is yet to be finalised.
Daye CEO Valentina Milanova founded the company in late 2018. She said the CBD-infused tampons would "always be less expensive than buying organic tampons and pain relief together. Our naked tampons will be slightly more expensive than most organic tampons to reflect the cost of sanitisation and truly sustainable packaging."