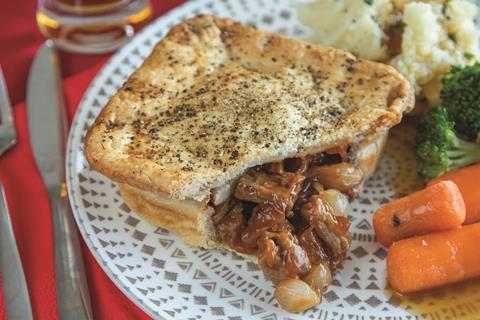 Delice de France has added a duo of vegan pies.
Vegan Fake & Ale and Vegan Saag Mangalore square pies will launch into convenience stores and independents from January 2020 (rsp: £3.95-£4.50/320g).
The former is filled with 'steak-style' strips and baby onions, in a vegan ale sauce. The latter is filled with cauliflower, spinach, chickpeas and lentils, cooked in a 'spicy aromatic' sauce.
Delice de France already supplies a Vegan Apricot Croissant and Vegan Sausage Roll.
Delice de France sales operations director Jenny Bayliss said there had "never been a better time to review bakery offerings to tap into growing consumer trends".
"The growth of those interested in vegan or meat reduction diets looks set to continue, and with it there's an increased expectation to see more vegan options widely available across all categories."
Brands gear up for Veganuary
It comes as a quartet of big-name brands unveiled meat-free NPD last week ahead of Veganuary 2020.
Chicago Town revealed its first vegan frozen pizza – BBQ Jackfruit – which launches in Janaury, while Rustlers showcased its first meat-free microwavable burger.
Cauldron, meanwhile, announced it had made its Moroccan Falafels SKU vegan with a recipe switch-up, and Kettle Chips added a new 'Sheese & Onion' vegan cheese flavour.