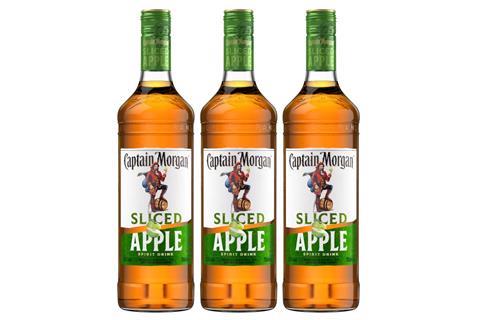 Captain Morgan has boosted its range of flavoured spirits with a new, lower-alcohol, Sliced Apple drink.
The 25% abv spirit drink is said to offer "a versatile liquid with bold notes of apple" that would be ideal with lemonade, neat over ice or as an ingredient in hot toddies (rsp: £16.50).
Developed "to tap into the early evening occasion and recruit more drinkers to flavoured spirits", the NPD would position the brand "as an all-year-round liquid", said Captain Morgan owner Diageo.
Shoppers "are still keen to explore new flavours within spirits", said Captain Morgan GB category director Samantha Newby. The NPD "provides an opportunity to truly disrupt the category with a great-tasting spirit option whilst widening the reach of Captain Morgan to a broader group of people, moments and occasions", she added.
It comes as Diageo has been rapidly expanding its portfolio of flavoured spirits over recent months. It gave Captain Morgan a 25% abv 'Tiki' drink in March this year, and, more recently, launched Raspberry Crush and Mango & Passionfruit flavoured Smirnoff vodkas
The spirits giant isn't the only one pinning its hopes on sweeter, flavoured versions of its core brands. It's biggest rival, Pernod Ricard, for instance, rolled out a 30% abv spirit drink under its Jameson brand in the summer, in the hopes of luring millennial and gen Z shoppers to the brand.
Its Absolut brand, meanwhile, launched a full-strength (38% abv) Watermelon flavour in the lead-up to summer.