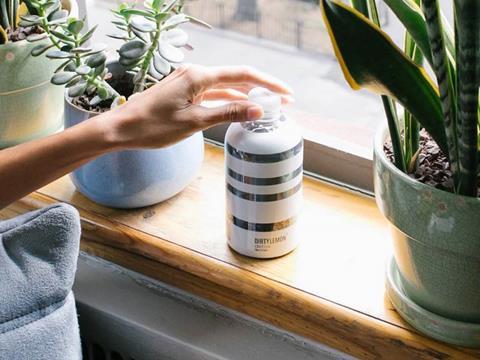 Hip functional drinks startup Dirty Lemon Beverages is preparing to bring its direct to consumer service to the UK.
The US business, launched in 2015, makes its drinks from a base of "pure lemon juice, ocean minerals and sea salt". It is blended with "powerful herbs and botanicals" such as marine collagen, activated charcoal and cannabidiol. Each drink is low in calories, with only one gram of sugar per 16oz (473ml) bottle.
While it confirmed its British debut, expected later this summer, Dirty Lemon declined to provide details, saying "the opening of UK distribution is very much in the early stages of development".
In the States and Canada, the New York brand's eight variants are sold via text message to its 100,000 customers. Visitors to the Dirty Lemon site fill their cart and then enter a mobile number to complete their transaction.
"This proprietary SMS-based technology and distribution strategy is challenging the industry standard by building a direct relationship with customers," according to the business.
Minimum order is six bottles for $65 (£49), although regular subscribers get a $20 discount.
In the UK, Dirty Lemon will join a burgeoning DTC market that includes PepsiCo's Drinkfinity pods, which can be used to create flavoured 'superfood' soft drinks.
Dirty Lemon was offering an "innovative marketing model" said Chris Moody, global chief design officer at brand consultancy Wolff Olins. "The standout idea of selling via text is great. It's a smart way to leverage the patterns of buying behaviour that have redefined the way we shop".
However, early adopters of the brand's drinks "may well just as quickly desert them", having "only transient brand loyalty". Lower prices and sweeter options would broaden Dirty Lemon's appeal, Moody added. Or the business could "diversify like crazy".
Shaun Browne, an MD at Houlihan Lokey, told The Grocer: "I'm not sure the market over here is totally ready." However, there was no reason to believe Dirty Lemon couldn't succeed "as long as they've got enough money to spend."