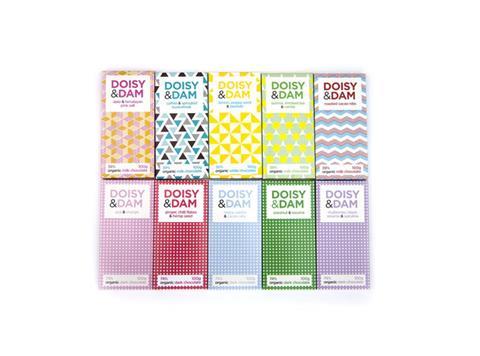 Norfolk based chocolatier Doisy & Dam is adding milk and white varieties to its range for the first time.
The brand, which uses an eclectic range of on-trend ingredients in its chocolate, is doubling its range of flavours with five new recipes: White Chocolate with Lemon, Poppy Seed & Baobab, and four milk varieties – Date & Himalayan Pink Salt; Quinoa, Smoked Tea & Vanilla; Coffee & Sprouted Buckwheat; and Roasted Cacao-Nib.
The new varieties will launch in September in 40g (rsp: £1.65) and 100g (rsp: £3.50) bars. They join five Dark Chocolate flavours: Mulberries, Black Sesame & Spirulina; Maca, Vanilla & Cacao Nibs; Ginger, Chilli Flakes & Hempseed; Goji & Orange; and Coconut & Lucuma.
Doisy & Dam is also launching two gift packs (rsp: £9.50), the Dark Collection and the Light Collection, which each includes 5x40g bars.
"We've been foodies for a long time, superfoodies for a little less time, but we wanted to create a product that had the nutritional benefits of natural, good foods and the delicious taste of an indulgent product," said co-founder Edward Smith.
Doisy & Dam is listed in retailers including Ocado, Whole Foods and Planet Organic.