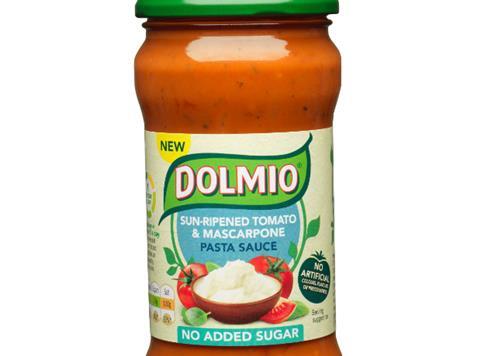 Mars is targeting health-conscious consumers with the rollout of a Dolmio no added sugar range.
The five new products are all tomato-based and will come in a smaller 350g jar – as opposed to its typical family-sized 500g jar – to cater for smaller households (rsp: £1.99).
The new range removed two barriers to purchasing from its pasta sauce range, said Dolmio brand manager Ian Nundy. "We asked consumers what would make them move into this space, and offering a smaller jar was a big one," he said. "No added sugar was another element that came out really strongly."
Nundy stressed there were only a "couple of teaspoons" of sugar in standard Dolmio sauces, but the new lineup offered an even healthier option without compromising on taste.
Last year, Dolmio lost £8.3m in sales amid speculation shoppers had been deterred by on-pack messaging saying certain sauces were 'occasional only'.
But Lundy said the guidance applied only to creamier sauces such as carbonara, and its tomato-based sauces – with or without added sugar – were everyday products.
Dolmio is also launching four 150g Chicken Tray Bakes in variants including tomato & basil and mushroom, garlic & white wine (rsp: £1.49).
Both new ranges will be supported with a revamped ad campaign that will be its first without the Dolmio puppets for more than 12 years. However, the puppets will remain on pack.
The TV ad, which will make its debut today (18 August), stars The Wire actor Dominic West as the father of a family that comes together over spaghetti bolognese. The 'No Drama' ad highlights the meal as one that removes conflict by being easy for parents to prepare and a favourite among children.
"Our customers tell us the puppets are a really key part of the brand's personality, but we've taken the call to go with something bigger and bolder that will get people talking about our brand as a leader," said Nundy.
The campaign will initially run until November, and is likely to return for a longer run in 2018.