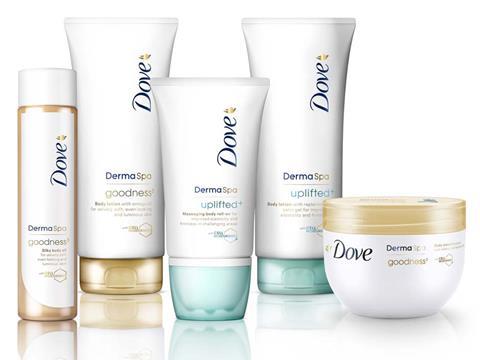 Unilever is replacing its core Dove skincare products with new range Dove DermaSpa.
The supplier said the launch was designed to tap a trend for premium products at an accessible price point, describing it as "one of the most advanced innovations" introduced to a hand and body care range.
DermaSpa comprises nine products divided across three ranges: Goodness3 for normal to dry skin, Uplifted+ for skin firming, and Summer Revived for gradual self-tan (rsps: from £4.99 to £9.99). It replaces all but six existing Dove skincare lines, including Dove Essential and Dove Intensive.
The products contain patented Cell-Moisturisers that Unilever said were derived from premium face moisturising technology and would help strengthen and protect the body's natural skin barrier while giving a more even-looking skin tone. They are suitable for sensitive skin.
Unilever, which is backing the launch with a £5m marketing campaign including TV from the beginning of October, said DermaSpa range was designed to provide a "truly different offering to anything in the current mass market channel", and get consumers excited about using hand and body skincare again.
"With the launch of DermaSpa, the expert care delivered by Dove in partnership with dermatologists and wellbeing experts will help turn women's skincare routines into a pleasurable ritual that delivers Dove's best body care," said Dove marketing manager Fiachra Moloney.
Dove holds a 7.5% share of the skincare hand and body category [Nielsen 52 w/e 20 June 2015].

Dove DermaSpa collection:

Dove DermaSpa Goodness3 Body Lotion, 200ml (rsp: £5.99)

Dove DermaSpa Goodness3 Body Cream, 300ml (rsp: £7.99)

Dove DermaSpa Goodness3 Body Oil, 150ml (rsp: £9.99)

Dove DermaSpa Goodness3 Hand Cream, 75ml (rsp: £4.99)

Dove DermaSpa Uplifted+ Body Lotion, 200ml (rsp: £5.99)

Dove DermaSpa Uplifted+ Body Oil, 150ml (rsp: £9.99)

Dove DermaSpa Uplifted+ Massaging Body Roll-On Serum (rsp: £9.99)

Dove DermaSpa Summer Revived Fair to Medium Body Lotion, 200ml (rsp: £6.99)

Dove DermaSpa Summer Revived Medium to Dark Body Lotion, 200ml (rsp: £6.99)



The following will remain in Dove's skincare portfolio:

Dove Essential 250ml and 400ml

Dove Intensive 250ml and 400ml

Dove Purely Pampering Shea 250ml

Dove Purely Pampering Pistachio 250ml

Dove Cream Pot 75ml and 150ml