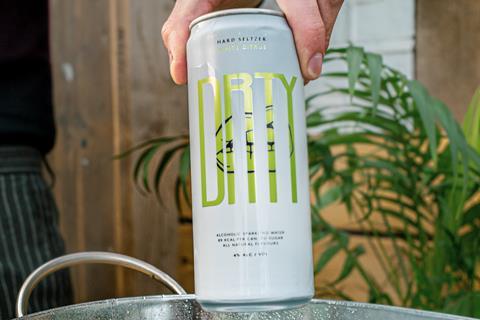 UK startup Drty has launched its debut range of hard seltzers online.
Raspberry Rosé and White Citrus (both 4% abv) launched in Ocado, Amazon and 31Dover on Monday (28 October). They contain 89 calories per 330ml can.
The fledgling brand uses fermented fruit to create a carbohydrate-free alcohol base for the drinks, before blending with purified sparkling water and natural fruit flavours.
"We wanted to give consumers an alternative to high-sugar ciders and calorie-dense beers," said the brand's founder Matija Pisk.
The drinks are billed as having a flavour "kind of like vodka soda but it tastes good".
Hard seltzers are selling like hotcakes in the US: the category has been predicted to reach $2.5bn by 2021 (according to one UBS analyst quoted by Business Insider).
The movement has sparked a number of NPD plans this side of the pond, including British brand Something & Nothing, which is set to launch a range of 'spirited' seltzers next year, and US brand White Claw, which was said to be eyeing the UK market back in August.
Drty's unveiling follows the news that US hard seltzer brand Mike's will be launching into UK stores later this month.