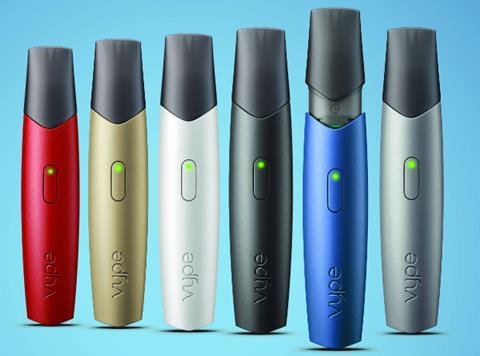 British American Tobacco's e-cigarette brand Vype has unveiled its latest closed-system device, the ePen 3.
Described by BAT as "the cutting edge of closed-system vaping technology", the Vype ePen 3 (rsp: £19.99) is "stylishly compact" with a soft-touch metallic finish available in red, black, blue, silver, white and gold.
With a "reliable, all-day-use battery", the entry-level gadget features "click in and out" pods in seven flavours such as Crisp Mint and Dark Cherry, with four nicotine levels: 0mg/ml, 6mg/ml, 12mg/ml and 18mg/ml.
The ePen 3 was BAT's "best vape ever and has been five years in the making" said the company's general manager, Gemma Webb.
"The rich vapour and intense flavour delivery sets this device apart and provides a truly satisfying experience that offers a real alternative to smoking while being a great lifestyle fit for vapers seeking a fashionable and easy-to-use device."
It follows the March launch of Myblu, the closed-system device from Blu, aimed at new vapers.